Deputy Prime Minister Trân Hông Hà called on the representatives of the economic world gathered on Tuesday, January 17 in Davos, Switzerland, to strengthen their cooperation and help Vietnam in the implementation of development goals in accordance with its main guidelines .
>> Vietnam asks Switzerland to show its strengths in its market
>> Activities of Deputy Prime Minister Trân Hông Hà in Switzerland
Deputy Prime Minister Trân Hông Hà (4andleft) during a round table with world economic leaders, in Davos, on January 17, Switzerland.
Photo: VGP/CVN
Vietnam advocates continuing to create and maintain a stable macroeconomic environment for development, proactively and flexibly adapting to unpredictable developments, stabilizing the macroeconomy and improving the economy's resilience, he said.and edition of the World Economic Forum (WEF) in Davos.
It is also about building an independent and autonomous economy linked to deep and effective international integration; attach importance to the development of strategic transport, technology, regional connectivity and green infrastructure, transition to a circular and low-carbon economy and take advantage offered by 15 free trade agreements signed by Vietnam, he continued.
The country intends to take advantage of the new engines of growth, take advantage of national and international financial and technological resources through climate agreements, achieve the green transformation, the transition to a circular and low-carbon economy in concert with the digital transformation, vigorously develop science and technology, innovation and creativity and build an ecosystem of innovative startups.
Placed under the theme "Cooperation in a fragmented world", the 53rdand This edition of the WEF aims, according to its founder and executive chairman of the Board, Klaus Schwab, to discuss ways to combat fragmentation and the growing erosion of trust at global and national levels through greater cooperation between governments and companies, enabling a strong recovery sustainable.
On Tuesday, January 17, Deputy Prime Minister Trân Hông Hà conveyed to Professor Klaus Schwab Prime Minister Pham Minh Chinh's invitation to visit Vietnam to co-chair a Vietnam-WEF national strategic dialogue until the end of the year.
He looks forward to the GEF continuing to promote its pioneering role in promoting public-private partnerships to shape ideas and new models of cooperation; to support developing countries, including Vietnam; cooperate with Vietnam in its process of building a green, circular and low-carbon economy.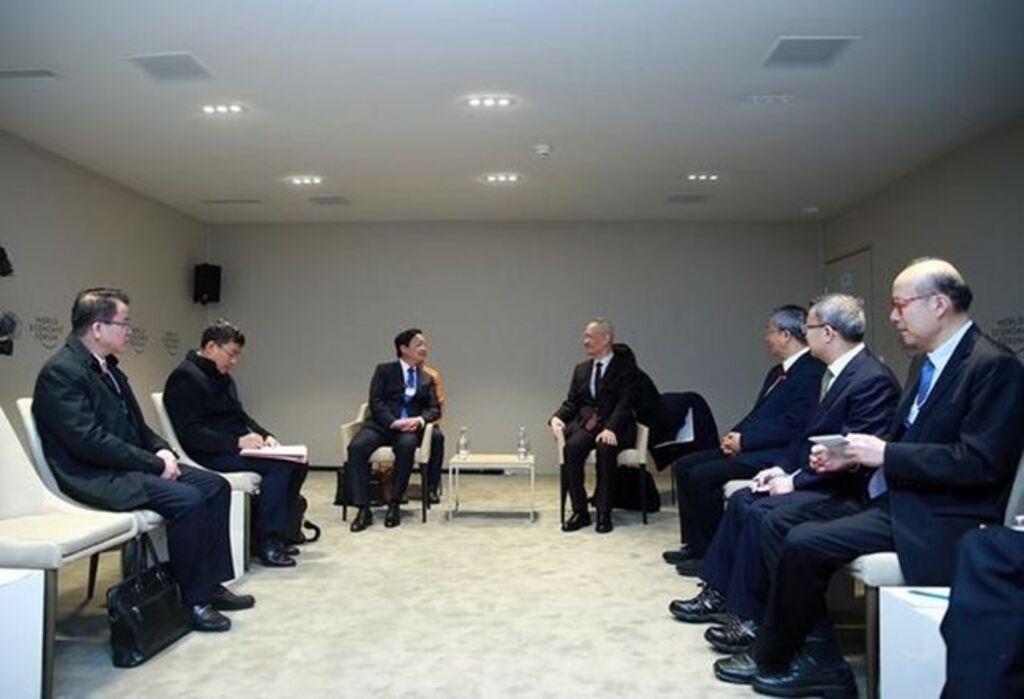 Deputy Prime Minister Trân Hông Hà (3andleft) and his Chinese counterpart Liu He in Davos on January 17.
Photo: VGP/CVN
energy transition
During a meeting with his Chinese counterpart Liu He, Deputy Prime Minister Trân Hông Hà conveyed greetings and invitation from party general secretary Nguyên Phu Trong to visit Vietnam. Both sides welcomed further progress in relations between the two countries.
The two vice prime ministers agreed that in the near future, the two sides will work together to well implement the common perceptions and important agreements reached during General Secretary Nguyên Phu Trong's official visit to China, constantly strengthen political confidence and traditional friendship, the connection of development strategies, deepen their cooperation in all fields.
During the meeting with the US President's special envoy, John Kerry, Deputy Prime Minister Trân Hông Hà stated that Vietnam considers climate change one of the areas of strategic cooperation between the two countries, thanking the government and other development for supporting Vietnam's energy transition.
He proposed to John Kerry to encourage the United States and development partners to support Vietnam in transferring renewable energy technology, providing green finance loans at reasonable interest rates, sharing management experience, and supporting the construction of resilience in the Mekong Delta.
The Vietnamese leader also had a meeting with the administrator of the United Nations Development Program (UNDP), Achim Steiner, during which he thanked UNDP for supporting socio-economic development in almost a decade, and wished to continue technical cooperation with UNDP , particularly in the transition to a green economy and post-COVID recovery.
VNA/CVN