"I am passionate about turning initial ideas into full-fledged businesses." This first sentence from the LinkedIn profile of Robert Glaesener distills the essence of the character and testifies to his professional successes in the business world since the year 2000.
His career began at the end of 1993 in Germany with Mars, one of the giants of the food industry, as product manager. In 2000, at a time when innovation as an engine of growth and when the start-up spirit as we know it today did not necessarily characterize the Luxembourgish economic environment, it embarked on its first entrepreneurial adventure by creating the online bank Internaxx, a joint venture between the Banque Générale du Luxembourg and the Toronto-Dominion Bank.
"With his talent, he would have had no difficulty climbing the ladder quickly inside the establishment, without taking any risks… However, it was brave to embark on the world of online business at the time", recalls a former BGL colleague, always admiringly. As a reminder, this was the era when the "dot-com" bubble had just burst.
He takes Talkwalker from start-up to international company in 10 years
Robert Glaesener leaves the company in 2010, a year after its sale, but wastes no time resting on his laurels. Interested in business intelligence, he met, at Technoport, Christophe Folschette and Thibaut Britz, who had launched Trendiction in 2008. Three years later, this almost fortuitous meeting gave rise to Talkwalker, a social media management tool focused on reputation analysis online.
Under the leadership of Robert Glaesener, Talkwalker grew from a start-up to an international company in a decade, employing approximately 450 people in Europe, the US and Asia. In 2021, Robert Glaesener leaves his operational duties to chair Talkwalker's board of directors, now led by

Todd Nielsen.
Once again, the "business truce" will have been ephemeral, practically non-existent, in fact. In early January 2022, Robert Glaesener announced his association with Benjamin Tillier and Daniel Schneider as part of the creation of the Fiveoffices real estate platform. Launched during ICT Spring last June, this platform connects vacant office owners with companies looking for short-term commercial premises.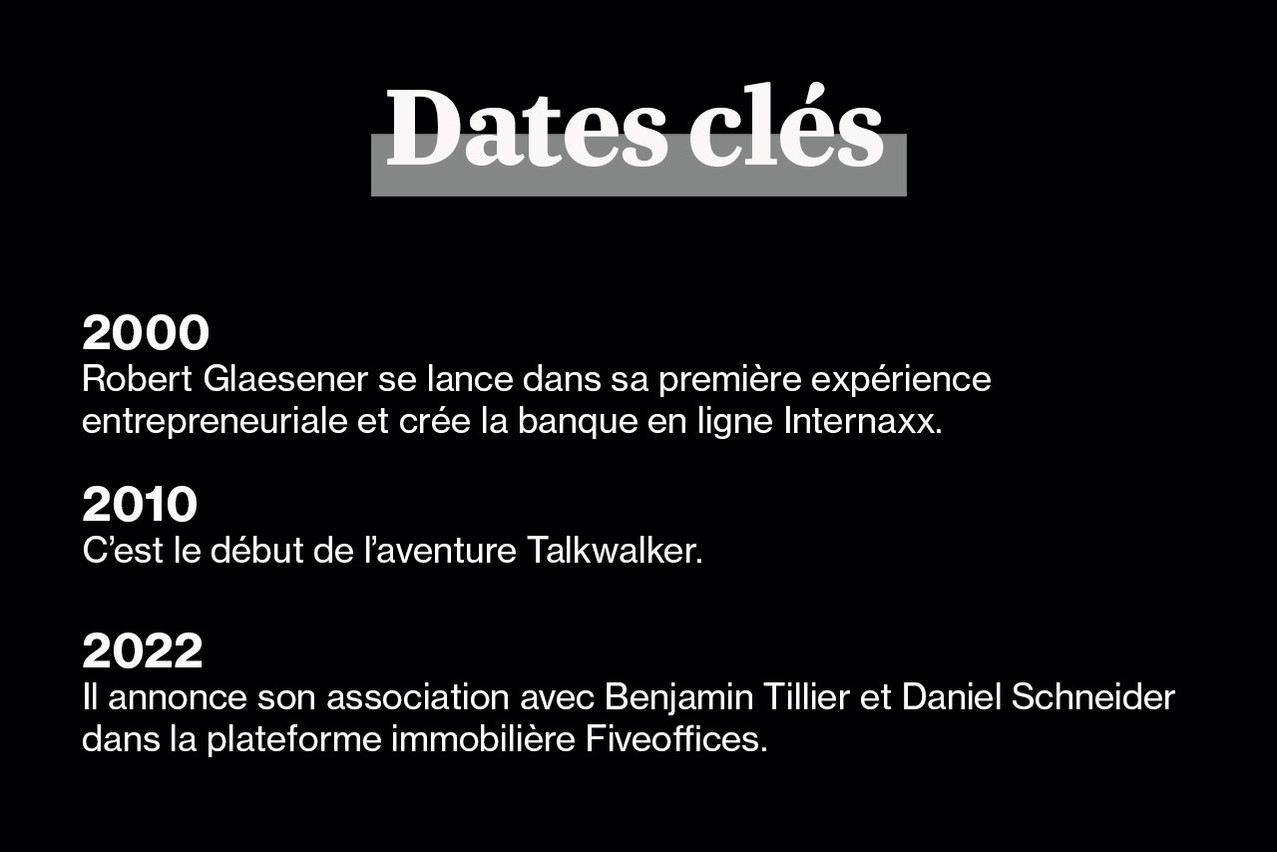 Here, then, is Robert Glaesener involved in a project that has an international perspective – Paris, London, New York… – and above all that adapts to the times, that anticipates the challenges ahead – in this case, the increased needs for flexibility that the recent pandemic helped to highlight, but also the need to reduce the environmental footprint of real estate – and which offers solutions to the recurring ambition to maximize financial resources on both the tenant and lessor side.
If in the case of Fiveoffices, Robert Glaesener is not CEO, there is no reason to worry about his schedule. A member of the Board of Fedil since 2019, he also recently joined Governance.com, which he has followed for two years as a member of the advisory board.
Talkwalker's success story has sometimes been compared to the myth of Steve Jobs, who launched the giant Apple from his parents' garage. There are certainly some common traits between Robert Glaesener and many successful businessmen, including his low profile in the media and elsewhere.
Without letting himself be intoxicated by success, Robert Glaesener follows his path with a determined step, even running. It will be interesting to watch its course over the next 10 years. See you in 2032!
This article was written for the issue of Paperjam magazine for the month of January 2023 Published December 14, 2022. Magazine content is produced exclusively for the magazine. It is posted on the site to contribute to the complete Paperjam archive.
Click this link to subscribe to the magazine.
Is your company a member of the Paperjam + Delano Business Club? You can order a signature on your behalf. Tell us via [email protected]