Created in 2020, the start-up Thrasos is developing a software solution, FS-Guard, to optimize industrial cleaning processes, but also to model the fouling of installations. With the Greentech innovation label, the young company will allow manufacturers in the food, pharmaceutical and cosmetic sectors to save money and time without compromising the health safety of their production.
Thrasos was founded in Saint-Malo (Ille-et-Vilaine) by Mahieddine Chergui. Engineer in dairy industries graduated from ENSAIA[1], has more than fifteen years of experience in the area of ​​hygiene and optimization of industrial cleaning. This past led him to an observation: the lack of scientific rigor in the processes. To remedy this, the current president of Thrasos has thus developed with his teams a software solution that offers two main functions: optimization of cleaning, synonymous with savings and time savings, as well as 3D modeling of the incrustations on the circuit, allowing them to be better located. . Which, in particular, ensures maximum sanitary safety in the premises, avoiding excessive cleaning.
Although it is just beginning to be commercialized, mainly with food manufacturers, the FS-Guard solution could also find its place in the pharmaceutical and cosmetic industries.
Mahieddine Chergui tells us more about the company he founded and which has just raised no less than one and a half million euros…
Engineering Techniques: What path led you to the creation of Thrasos?
Mahieddine Chergui: I basically trained as an engineer in the dairy industry; I did the ESSAY Nancy. I worked for fifteen years for a supplier of hygiene products to IPCs[2], among others. In particular, I worked on optimizing them. At the end of those fifteen years, I came to the conclusion that these facilities suffered from two major problems. The first is that cleaning is the only unit operation[3], today in a factory, to be almost entirely outsourced. This is quite surprising, knowing that it is a guarantee of food safety… The second aspect that led me to create Thrasos is that these cleanings lacked scientific rigor. Empiricism is certainly one of the foundations of science, but this approach quickly reaches its limits. When we talk about cleanliness, this naturally means talking about fouling. However, the empirical approach is very limited in allowing the elimination of these incrustations: they occur in circuits that cannot be inspected with the naked eye. Hence the idea of ​​developing Thrasos with an approach that is both pure player and much more scientific.
To remedy the problems you mentioned, you have developed a solution called FS-Guard. How it works?
Our approach begins systematically with a CIP facility review and audit phase. We performed a qualitative assessment of the NEP following the recommendations of the EHEDG[4]🇧🇷 Thrasos is also part of the foundation, and I myself am a member of the NEP working group. We therefore analyze the cleaning installation very rigorously, in order to carry out a true qualification, recorded in a report.
In this way, we recover data that allows us to configure our software. This data is, in fact, cleaning programs, from which we retrieve information such as the status of valves, pumps, sensors… of your configuration. It saves a lot of time. The algorithm also analyzes the cleaning history and adjusts the cleaning process in case of failure of one of the parameters. The algorithm learns as it goes.
All this sums up the first part of FS-Guard, which is, if I may say so, level 1. This allows the manufacturer to get optimization and real experience without resorting to third parties.
The second level of our solution concerns the modeling of the inlay. We have developed a technological brick on this subject, the patent of which is pending.
It allows, mainly in heat exchangers, to model incrustation and cleaning efficiency. The idea was to use a non-invasive technique: we don't use sensors. This is what sets us apart. In fact, we produce a digital twin of the installation, which includes all the production parameters, the formats of the exchangers, the parameters of the fluid circulating in the production, namely its physico-chemical characteristics, as well as the cleaning parameters. We therefore implemented a very in-depth analysis. The first results we got are very good. Between the results of our modeling and the actual fouling observed in the field, the reliability is around 80 to 85%.
What areas of industry does your solution target?
Today, we focus on the agri-food sector, because it is our core business, it is where most of our skills reside. It is also where most NEPs are found. Of course, other industries pique our interest: the pharmaceutical industry, the cosmetics industry in particular, resembles the food industry in many ways; we have valves, pipes, tanks… And all this connected to CIPs to guarantee the cleanliness of the installations.
How mature is your solution? What are your goals in terms of time and business model?
The two tech bricks that make up FS Guard are ready. We already have several industrial proofs of concept in place, in the dairy industry and beverage industry. We have already started marketing the solution to some customers. 2023 will truly be the year of the full-scale launch.
The solution will be available by subscription, in "SaaS[5]-likes". That is, not entirely in SaaS: first, as I said, we have an audit phase, at a fixed price, then a subscription to the software solution itself. Security is also at the center of our concerns. That's who we are. supported by a cybersecurity company at all stages of development and deployment.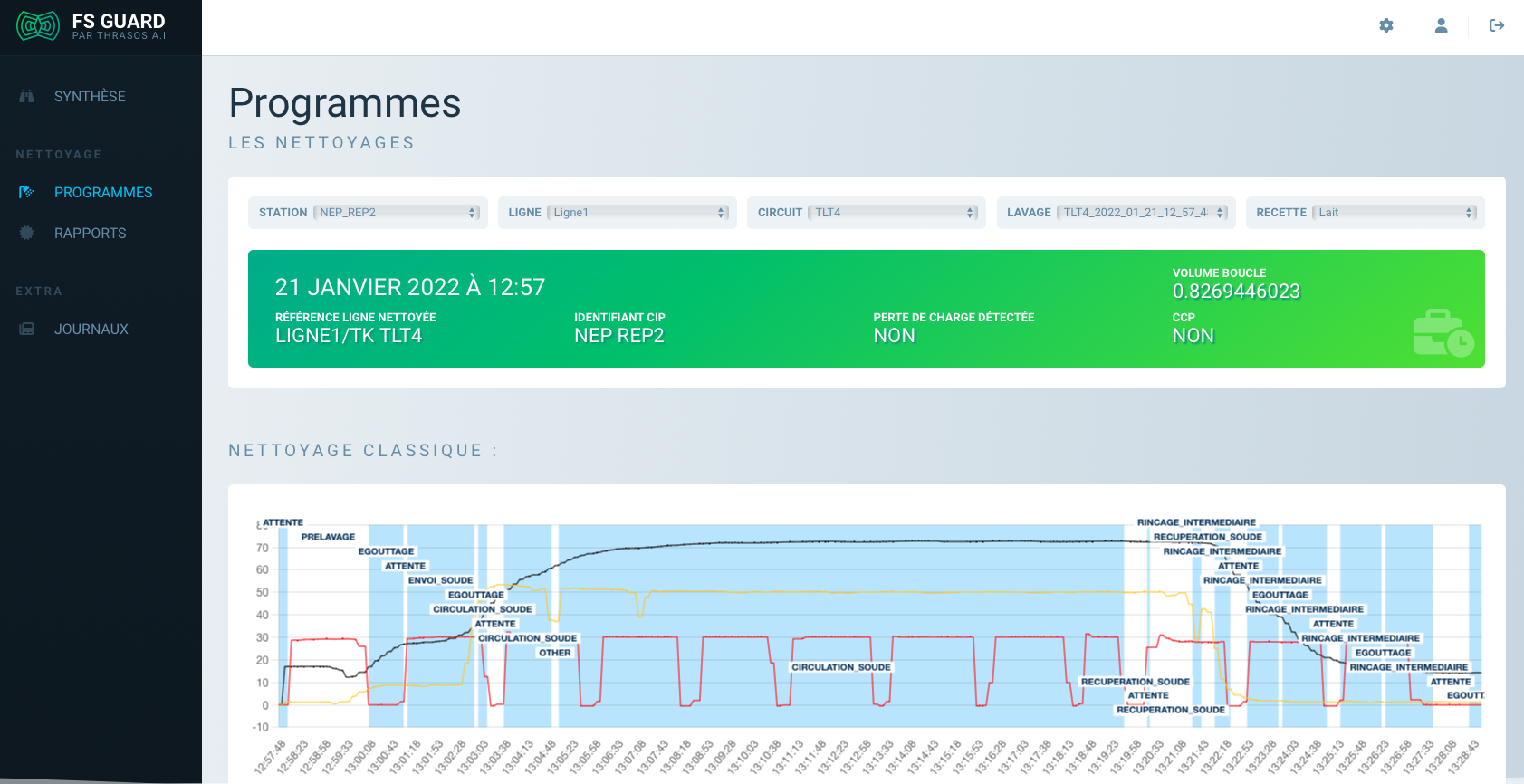 Concretely, how will manufacturers be able to access the information provided by your solution? Will it be equipped, for example, with a web interface?
Exactly ! The manufacturer will have a platform accessible at several levels, depending on the users within the plant: operator, workshop manager, etc. This platform will allow them to access the entire history of the cleaning installation, the optimizations carried out, the gains obtained at a practical but also economic level. We also have our own indicators to evaluate the effectiveness of optimizations from one site to another. This will be particularly beneficial for large agri-food groups, who often carry out numerous optimizations across different locations. Our solution will allow departments responsible for these matters to adopt the same optimization schemes regardless of location. It is not necessary to standardize the cleanings themselves, as each circuit is different, but standardize your optimizations.
What savings can a manufacturer expect from their solution?
Even though this varies greatly from one factory to another, our first results obtained in a large dairy plant show a water saving of around 40% in the first washes and 50% in energy consumption.
Can excessive optimization of cleaning lead to increased health risks associated with installations, namely at the microbiological level?
Of course, we work closely with the websites' quality departments. The cleaning processes obtained after optimization are validated according to the procedures in force in these factories. Our approach also goes further than what is currently done to combat microbiological risks: today there is no quantification of fouling; therefore, there is also no quantification of deposit elimination. The approach is always "a posteriori": we wash; we define the production parameters, often more or less at random, then look at the results of microbiological analyses… In a perfect world, where everything would be under control, we would never have bacteriological problems. Unfortunately, current events show us that this is not the case… Cleaning is not always effective, as it is very difficult to know where the encrustation is located in a completely closed circuit. Our technology brick helps to identify potential clogging risks, areas where cleaning is not effective enough.
The rules we implement in our algorithms prevent them from being over-optimized to the point of generating completely unrealistic cleanup times.
It has just announced a fundraiser of one and a half million euros. What are the objectives of this financing?
We have two objectives with this fundraising: to reinforce our R&D team, as well as the sales teams and those dedicated to the implementation of the solution. We are now 11 and we expect to have around 15 next year, and probably many more in 2024 and 2025. We expect a big acceleration in this period. Our first results are really very encouraging.
We also worked with organizations such as the Water Agency who clearly understood the value of our approach.
We also have other projects, which it would be premature to reveal at this time, but which, in any case, are always centered on the search for scientific effectiveness in an environment very marked by empiricism. We position ourselves as a truly pure player in optimization: we do not sell consumables or equipment. Certainly there are already many actors in the optimization of CIPs, but few of them reach the point of generating an optimized program associated with the modeling of inlays. This is what makes our approach credible and why, for example, we are labeled as Greentech Innovation by the Ministry of Ecological Transition. Currently there is a lot of greenwashing and this labeling aims to give visibility to true solution providers. This tag is extremely important to us.
---
[1] National School of Agronomy and Food Industries
[2] Cleaning-in-Place: Generally automatic cleaning systems intended for industrial production facilities. Also called CIP (Clean in Place), this approach allows cleaning of tanks, pipelines and other machinery without disassembly.
[3] All production requires a coordinated sequence of fundamental operations that are distinct and independent of the process itself, called unit operations (source).
[4] European Hygiene Equipment Design Group. Foundation for the promotion of hygienic design of equipment and installations in the food industry, created in 1989.
[5] software as a service