Tech accessories maker Razer is launching Restorify, a tool for consumers to offset their purchases with carbon credits donated to organizations. The company hopes to spark a movement towards more responsible consumption.
Buying a keyboard, a computer or any product online, often on the other side of the world, costs the planet as well as your wallet. But it is above all the carbon footprint that is increasing. The awareness of companies and consumers is now very real, and everyone wants to go there with their good gesture, their good deed. But not knowing, most of the time, what it really is.
On the occasion of COP27 organized last week in Egypt, Razer, world specialist in gaming accessories, presented Restorify. This time, no product in sight, but an e-commerce solution that wants to offer better carbon traceability of its online purchases.
Offset your carbon footprint through identified projects
Restorify is based on the idea of ​​carbon offsetting to help reduce emissions into the atmosphere. This often results in carbon credits expressed in metric tons that are difficult to break down. And so it's tricky to design an offset for purchases based on excessively large carbon credits.
Initially launched on the Razer website, the Restorify tool takes into account several aspects, with the aim of fractioning carbon credits and obtaining small volumes to allow consumers to offset their own purchases.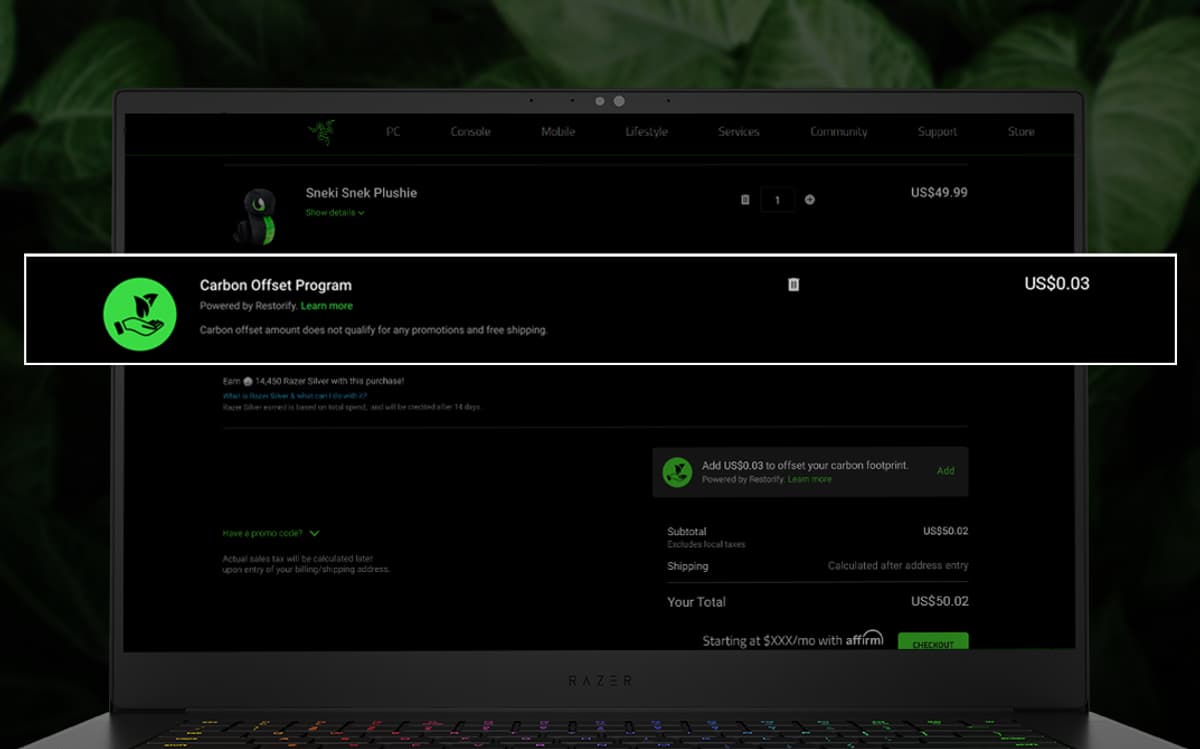 And Razer approached several players to build a portfolio of carbon credit projects – trying to avoid greenwashing and simply planting trees – and partners to support it, such as GoNetZero, energy solutions provider, ESGpedia, a traceability specialist carbon credit that will list the buyer's compensation, and even the Amazon Web Service cloud computing platform.
Encourage Amazon and other commercial sites to follow suit
To participate in the collective effort to achieve carbon neutrality in the world by 2050, the Singapore company wants to act with full transparency, while empowering consumers and manufacturers. At checkout, shoppers will be able to measure and view the carbon footprint of the product they've added. For an additional amount, calculated according to the base established by the OECD (147 dollars per ton of CO2 equivalent), they will then have the possibility to offset everything by buying carbon credits that were previously withdrawn from verified carbon registers.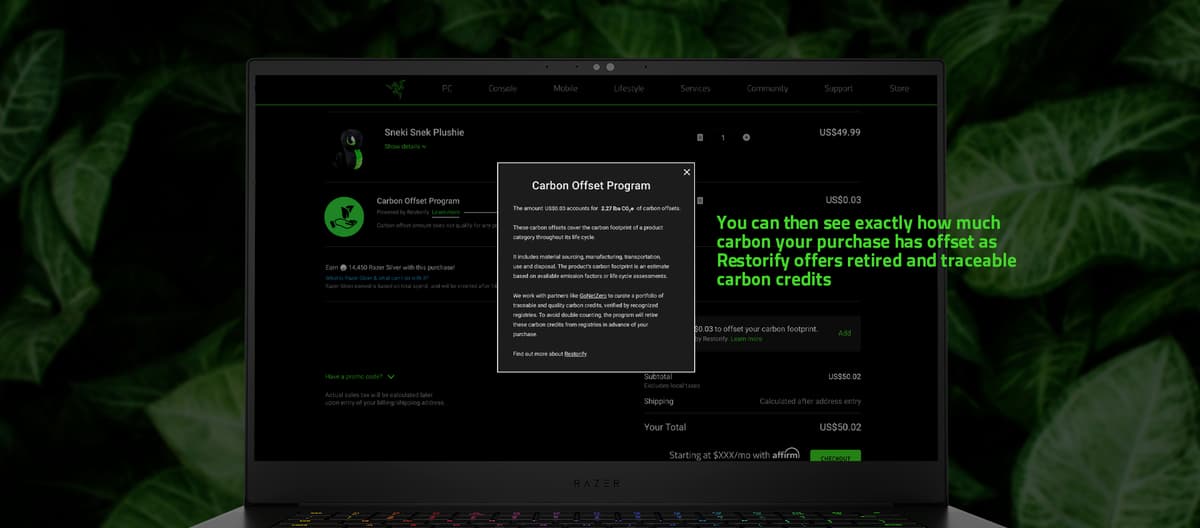 Once the purchase is validated, the consumer will obtain a certificate that will allow the carbon credits to be traced to find out what cause they served. A way to be transparent about the actual compensation applied. This will indicate the total amount of carbon emissions offset by the purchase, the type of project supported and its location. But it doesn't stop at payment. Projects will be subject to regular monitoring and reporting so that the buyer is informed of their use.
However, the idea is not to keep your tool and your good conscience for your single site, but to start a movement. If Razer has multiplied projects and actions for several years to accelerate its decarbonization process (packaging limitation, eco-label obtained for several of its mice and keyboards, limitation of emissions along the production and shipping chain, recycling, etc. ), the Asian-American group also wants to make other companies aware of the importance of better managing their carbon footprint and encouraging responsible consumption.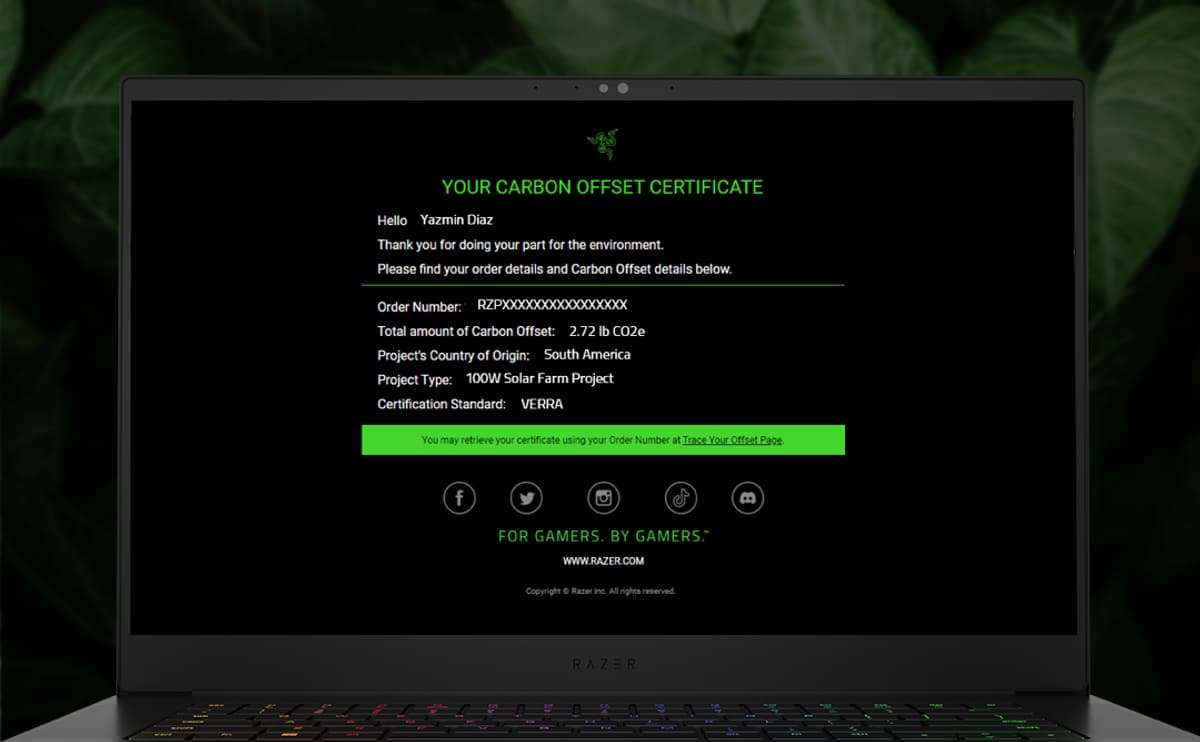 Restorify thus offers a product emissions calculator available free of charge to other websites so that they can estimate their carbon footprint in real time and throughout the life cycle of a product (supply of materials, manufacture, transport, use, destruction) . And the group hopes to attract commercial sites like eBay or Amazon, but also its 50,000 merchant partners in the Razer Fintech network, its financial branch in charge of digital payments and at the origin of the project.