The start-up Morphosense develops innovative solutions to monitor the behavior of bridges, dams, oil stations, wind turbines… Thanks to a network of sensors associated with digital twins, it is able to accurately identify the source of a failure. Interview with the two founders and partners of the company.
Created in 2016, the start-up Morphosense is developing a technology initially invented by CEA Leti to monitor the deformation of a spinal column. Faced with the difficulties encountered in finding a hot market in the medical sector, the company adapted the process to monitor the behavior of different types of infrastructure: bridges, dams, tunnels, oil stations, wind turbines, etc. system to measure the deformations of structures in real time using a network of sensors. It also proposes the production of digital twins of structures to precisely identify the origin of any faults that may appear. Meeting with Alexandre Paléologue and Cyril Condemine, the two founders and partners of Morphosense.
Engineering Techniques: Why is it important to monitor infrastructure behavior?
Alexander Palaiologos: As we age, disorders begin to appear in old infrastructure such as bridges, dams, tunnels, locks, oil stations, etc. If we don't intervene in time, the cost of maintenance becomes prohibitive. There is a factor of 10 between the cost of a quick intervention and a late one. And in the worst case, the bill can reach the total reconstruction of the work. Previously, technologies were imprecise, not very robust, and not capable of providing real-time monitoring. Today, with technological advances, the dream of carrying out predictive maintenance is becoming a reality accessible to all structures, which was still impossible fifteen years ago. As for new infrastructures, before they are put into service, there is a real interest in providing digital evidence, thanks to measurements, that they meet the specifications. And, above all, the earlier the life of a structure that we instrument, the more it will be possible to keep it in good condition, prolong its useful life and, in the end, it will cost less to operate.
What technology have you developed to observe the fatigue of structures?
Cyril Condemine: We developed a system based on a set of sensors, each the size of half an A4 sheet and measuring ten parameters using three accelerometers, three gyrometers, three magnetometers and a temperature probe. These sensors are interconnected by a single cable, the maximum length of which can be up to 1.5 km. Thanks to this network, we measure the structural life of a structure, that is, the way it breathes, deforms, twists, the frequency with which it vibrates, etc.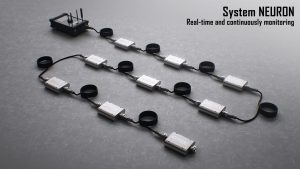 Our monitoring process stands out for its robustness. It works in all outdoor and industrial environments, up to 100m underwater, and is even drivable. So it's easy to use, because we've developed a sensor that adapts to all structures, whatever their shape, size and the type of material on which it has to be positioned. Each sensor is also very efficient, with, for example, the presence of very high precision accelerometers, with a sensitivity of the order of a few µg/√Hz. It behaves like a seismic sensor and is capable of measuring earthquakes, even those that are not felt. Finally, we developed the interoperability of our process. It can connect to other sensors already present in the infrastructure, such as a weather station or a crack meter, to retrieve this data stream.
How do you use all this data?
SHOVEL: From this monitoring, we were able to show, in numbers, the way in which the structures behave and will respond to the demands to which they are submitted. But to really know why they behave this way, we had to import all the data into a 3D model. We develop digital twins to represent the physical behavior of infrastructures. We subject them to the same constraints that work encounters in reality. On a bridge, this could be road traffic, and on a lock, the impact of water. In addition to visualizing the progressive fatigue of a structure, thanks to the representation of all the forces involved, we can identify the exact location at the origin of a failure. We can thus indicate to our customers which structural part, such as a beam, is responsible for the deformation observed in their work and which must be repaired. It is from these digital twins that predictive maintenance can be implemented.
CC: Another important point: these 3D simulations are performed in real time, whereas processing all the data normally requires several weeks of calculation. Faced with a windstorm, for example, or a seismic event, we can go back and show how the structure behaved in relation to these restrictions.
What stage is your project in?
SHOVEL: On the monitoring side, a first commercial offer was launched in 2018 and we have already sold around fifteen worldwide. The digital twins were released early last year; four are already in operation and another two are being installed. We are positioned in the civil, nuclear and hydrological engineering market.
Our ambition today is to participate in the digital and energy transition. We want to be leaders in the field of offshore and, above all, floating wind energy, to allow operators to monetize their equipment. If they cannot control the cost of maintenance, the cost of energy produced is likely to explode and, in the end, it will be the consumers who will have to foot the bill. In a floating wind farm, whose operation lasts about 20 years, we managed to reduce the maintenance cost by 15%. It may not seem like much, but for a park with around fifty wind turbines, this represents several tens of millions of euros, or even a little more. Furthermore, at the end of this operation, the operator will want to sell its park. Thanks to our technology, it will have the health history of each wind turbine, with proof of its structural condition and it will still be possible to guarantee a remaining useful life.
CC: There are between four and five companies in the world that do the same thing as us. Our system is very efficient, known in its ecosystem, but our potential customers are very large industrial groups, such as TotalEnergies, Shell, Siemens, EDF, Engie… A start-up can do R&D, but to be credible in these markets, it must have another scale. We are now looking for an industrial partner, already present in these markets, to take advantage of its commercial power, its reputation, its visibility, to commercialize our technology.