Nutrition bars contain a proprietary blend of stress-reducing adaptogens
The Israeli startup MyAir, founded in 2019, has developed a revolutionary concept that aims to fight everyone's enemy: chronic stress. It is an intelligent food company based on user data, allowing you to guide you in your stress management, providing you with a personalized follow-up through a program of herbs bars. The myAir Insights app collects 80,000 data points per day in real-time from the person's smartwatch, including heart rate variability, sleep quality, energy levels and stress patterns. MyAir, the first and only of its kind to offer this kind of alternative to drugs to combat stress, has already conquered the American market.
The principle is simple. After the user answers a large questionnaire about their lifestyle and habits, the platform records cognitive data to analyze and create the person's body-mind profile.
Based on this profile, myAir Insights develops a personalized dashboard that empowers everyone with information, tools and personalized behavioral challenges to naturally manage their stress. Depending on the answers given, people will be guided on the two types of nutritional bars they should consume to improve their quality of life.
"Stress is an important element because it acts as a booster in our lives, but when it overwhelms us, it can put us in danger. Doing meditation or relaxation every day is not easy, that's why we choose food to change our health because health always starts with nutrition," said Rachel Yarcony, CEO and co-founder of MyAir at i24NEWS.
The myAir scientific team, which includes researchers from Berkeley, Stanford and Macgill, conducted a study with leading technology company Garmin and found that the myAir solution reduced stress in 73% of participants and improved sleep quality in 84% of them. .
Bars with plant extracts to de-stress
Nutrition Bars contain a unique blend of adaptogens (botanical extracts) and super botanicals that are proven to reduce stress. They connect to receptors in the endocrine system and the autonomic nervous system to counter the effects of stress, bringing the body back to homeostasis. Gluten-free and vegan, the bars contain less than 100 calories. One bar a day is enough to get rid of tension.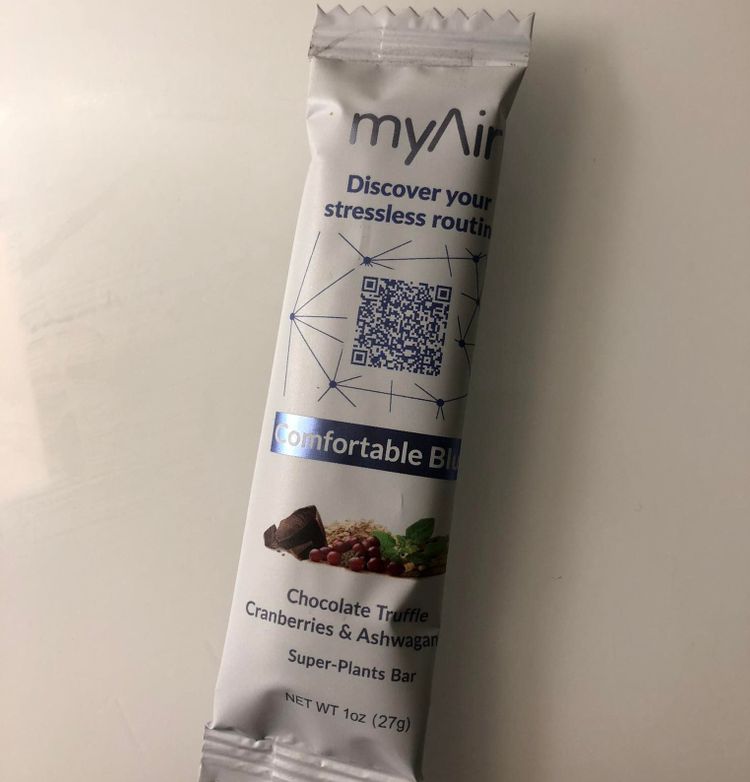 "People also receive guidance on the foods they should eat, which help, for example, to sleep better, which adapt to the person's profile. After just 5 days of consumption of the bars, 84% of people improved the quality of their food . sleep and 80% managed better stress," Rachel said.
"Research has proven that the best way to change behavior is to attach a new habit to something we already enjoy doing. That's why we use healthy, functional nutrition as the first step in creating a routine. Stress management," she continued.
Stress is the 6th leading cause of death in the world and stress levels have only increased in recent years, mainly due to the coronavirus pandemic.
In the United States, 83% of the population suffers from stress and 60% of employees say their company does not give them the tools to combat it, which can lead to burnout and physical problems. In addition, the World Health Organization (WHO) has classified stress as the global health epidemic of the 21st century. In the US alone, stress is estimated to cost US companies $300 billion a year.
How it all began
MyAir was born out of a personal need for Rachel, who was exposed to intense stressful situations. A master in business management obtained in France, he worked first for the Strauss food group in Israel, then Osem before joining the pharmaceutical company Teva, where he was vice president of international marketing.
"As Teva went through a big crisis, I started to feel a lot of chronic anxiety and I looked for a solution that didn't come from drugs, I met a researcher who explained the principle of adaptogens to me and I decided to build my startup", she said. i24NEWS.
Together with tech entrepreneur Dovev Goldstein, they've brought together world-renowned researchers, scientists and clinical herbalists, along with a world-class technology team, to revolutionize the food industry with the first personalized nutrition solution that delivers continuous monitoring to users. .
In the future, MyAir wants to venture into the European market and export its experience in stress management.
Caroline Haïat is a journalist for the French website i24NEWS