Created in 2021, Algerian start-up Green Al sells biodigesters so that individuals in isolated areas, farmers or restaurants can create their own biogas and electricity from their waste. Meeting with Kheira Nawel Benaissa, founder of Green Al.
Faced with inequalities in energy access in Algeria, start-up Green Al offers an answer by selling mobile digesters to produce biogas from organic waste. This solution, initially designed for the desert areas of Algeria, is also of interest to the rest of Africa and Europe, where tests are being carried out in Spain.
It was during her PhD in waste management and ecosystem pollution that founder Kheira Nawel Benaissa specialized in biogas production. She created her first 15 cubic meter biodigester in southern Algeria and published her results in a book. Since then, she has become a research professor at the University of Tamanrasset (Algeria) and founded her start-up Green Al in 2021. Offering an innovative and ecological solution, the start-up has seduced and won awards in several challenges, including the A3C Algeria -Climate Change-Challenge or EMERGING Mediterranean.
Engineering Techniques: Why did you create your startup Green Al?
Kheira Nawel Benaissa : I lived in southern Algeria for 10 years, and when I went out into the desert, I saw communities in villages that did not have access to gas and electricity. They then had to travel hundreds of kilometers, on tracks because there are no roads, to buy bottles of butane. Otherwise they used charcoal and wood, but these methods are harmful to the environment and mean that today we have almost no palm trees around these villages. If Algeria is considered an oil and gas country, there is a real problem of energy supply.
I always say that the role of a researcher is to find solutions for society and apply them in the field. That's why I worked with biogas during my PhD, with the idea of ​​creating my own business later. I was then able to incubate my project, which allowed me to acquire enough business skills, so I received the innovative project seal from the Algerian Ministry of Startups in September 2021. There, I officially created Green Al.
What does your business offer?
Our solution is a kit that contains a biodigester made of PVC fabric, which has the advantage of being transportable and mobile. There is also a stove to burn methane gas, an adapter to convert biogas into electricity by connecting it to a generator, and finally our inoculum, which is a bit like our secret recipe for increasing biogas production. It is, by the way, on this inoculum that I worked during my PhD. We offer different volumes of biodigester according to the customer's needs and the amount of waste that will be introduced. The lifespan of our product is 8-10 years.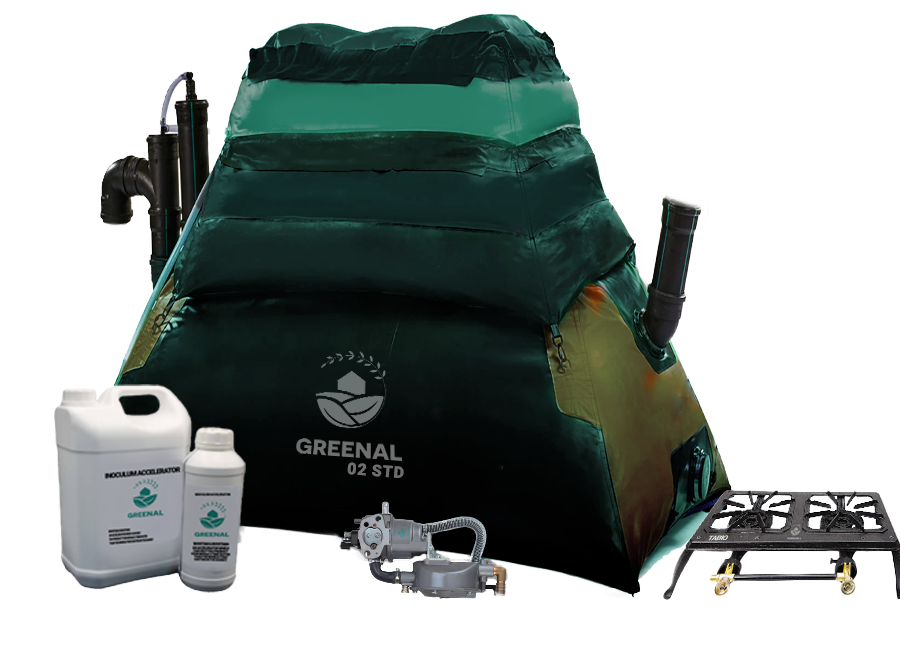 How does your solution work?
The biodigester is installed outside, on a flat surface, and connected to the kitchen stove. We throw waste there, so leftover meals, husks, wastewater, animal waste, as well as our inoculum. Once the biodigester is closed, our technology works on anaerobic digestion, that is, the bacteria will act and produce biomethane ready to be burned for 12 days. Depending on the volume of the digester, biogas can be produced between 2 and 6 hours of continuous use. After 3 months, the contents of the biodigester are emptied to refill. The digest that remains is a very good biofertilizer and therefore can be reused.
What's in your inoculum?
During my PhD, I studied the bacteria found in camel dung. Studies have been done by Indians on camels, but I have not found literature on dromedaries from Algeria. Well, I took it because I found that these bacteria act as a buffer solution to keep the pH neutral. But in anaerobic digestion, if the pH becomes acidic, everything must be thrown away. These bacteria make it possible to maintain a neutral pH without the use of chemicals and the gas produced is composed of 75% methane so that there are no impurities. We are also in the process of registering a patent for our inoculum.
Who is your kit for?
Our solution is aimed at individuals in isolated areas, hospitals, schools, canteens, restaurants, farms, etc. therefore, everywhere there is a source of waste. For now, we voluntarily send our kits to associations in Algeria so they can test them and sell them to agricultural facilities. A kit is also being tested in Spain, and we are going to send some to the Noé association, which works in Niger, among other places, so it can be tested. If the tests are validated, we can place an order.
What is the price of your kit?
Our 1200L volume Green Al 2 kit is $666 and the 2500L volume Green Al 6 pro is $998. We have a "pay as you go" strategy so that payment is made in installments. For associations or individuals for whom the cost would be too high, we also propose that they pay a small part and, in return, give us the digestate produced that we use to manufacture our biofertilizer.
What are your projects?
We are working on various topics to improve our solution. First, I am currently in Romania conducting research to improve the quality of our inoculum. The aim is to reduce the duration of biogas production from 12 days to 6-7 days. I also take this opportunity to create a subsidiary of Green Al Romania there, which will allow us to be present in the European Union. This will facilitate the distribution of our products as well as the purchase of our raw materials, because the import-export regulations are very complex in Algeria and the administrative procedures are very long.
Finally, our biodigester can currently produce biogas if the outside temperature is 30 to 35 degrees. This was not a problem in southern Algeria, but the weather conditions are very different in Europe. For now, we need to heat our digester using resistors, using electricity to keep it at 30 degrees. We are therefore thinking of a method to heat our biodigester without using external energy.
Is it easy to innovate in Algeria?
There is goodwill from the government with the creation of the Ministry of Knowledge Economy and Startups two years ago, as well as the establishment of funding dedicated to innovation. At the end of last August, for example, they announced a fund of 58 billion Algerian dinars [environ 415 millions d'euros, NDLR], aimed at startups in each of the provinces of Algeria. On the other hand, many administrative procedures get in our way and access to these funds continues to be complicated.
On the other hand, regulations regarding the acquisition of research equipment are the same across the country, but the University of Tamanrasset is located in a landlocked region 2,200 km from the capital. This isolation, combined with lengthy administrative procedures, made me wait 4 years to receive the material intended for my research. Finally, being a woman also complicates the situation, as married women are often under the control of their husbands. Personally, I had to divorce because my husband didn't want me to continue my research in the lab. So there were a lot of obstacles, but I'm sure I made the right choices. I believe in my company and I have seen the positive impact of my solution on citizens.
Alexandra Vepierre interview