Belgian start-up Nodeum is advancing its pawns in the bespoke data management market for high-performance, hybrid computing environments. Access speed, archiving and data security to and from heterogeneous storage media and technologies are included.
Marking the data management market – very – crowded in its storage part (NetApp, Dell Technologies, etc.) is no small feat. However, that's what Belgian start-up Nodeum is trying to do. Founded in 2016 and originally from Liège, the company won its first customers in 2017 and can be proud to display great references on its list since then, such as Airbus, CEA, RTL Belgium, supercomputing center in Barcelona. extended its activity to Great Britain, Germany, Austria, Switzerland, Holland and Nordic countries. But it also has international clients in Japan, India, the United States… The activity sectors targeted by Nodeum are life sciences, video content distribution and production, but also universities and research. The challenge faced by the start-up? Move data in an automated manner, both in a high-performance and high-volume context, to ensure archival and security, especially in the face of the threat of ransomware. To address these challenges, Nodeum relies on a Restful API interface.
On the occasion of an IT Press Tour 2022 point, the founder and CEO of Nodeum Valery Guilleaume recalled the positioning of his solution, its main features and associated uses. First, the software is adapted for secondary storage environments. It makes it possible to manage, move, monitor the lifecycle, protect and archive data in a hybrid context (on-premise, public cloud, etc.) regardless of the media and technologies used by customers (NAS, magnetic tapes, file servers, quad. ..). Among the highlighted use cases are the integration of data management supported by complex and voluminous video streams, the construction of a centralized multi-data archive or even the control and security of the management of your data.
Nodeum interface. (credit: Nodeum)
Quantum and Datacore Partner
Adapted to the hybrid storage context, Nodeum should reduce data fetch time and manage data migration between NAS, tape and cloud solutions. The offering responds to the challenge of backing up structured data, applications, prioritizing the management of moving data workloads. This hybrid cloud data management covers the issues of migration (automation across different storage systems), archiving (moving data to secondary storage to reduce the cost of primary storage while keeping the data available online at all times), and data protection (resilience and ease of accessibility to offline data). Tailored for high-performance workflows, the solution offers checksum verification functions, support for NAS (NFS and SMB protocols), cloud storage (public and object via S3 and Swift protocols), and LTO tape libraries , ACSLS and LTFS. AWS S3 and Azure Block Storage connectors are offered. Nodeum also partners with Quantum and Datacore for data protection and archiving functions.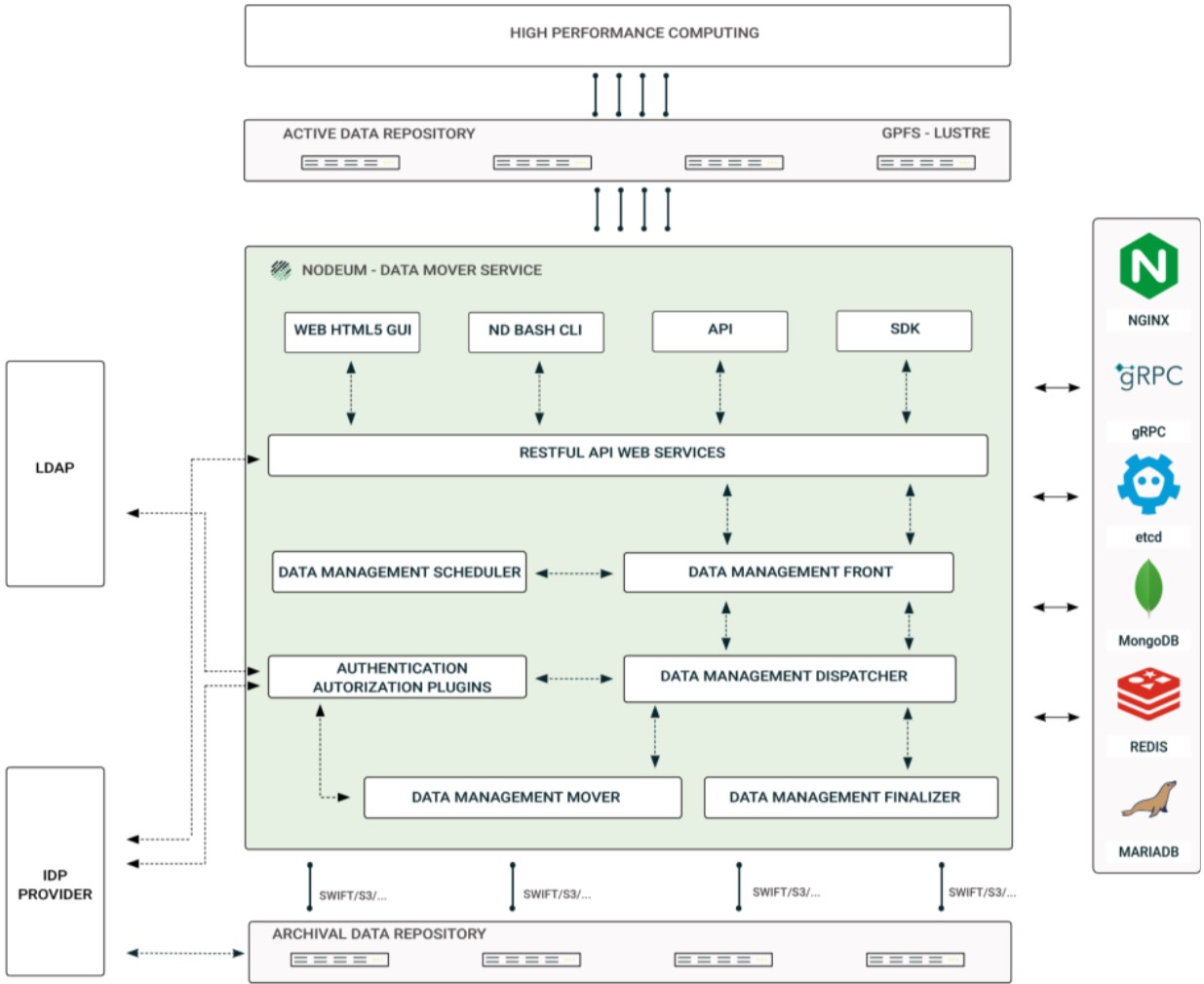 Evolution of Nodeum architecture. (credit: Nodeum)
Starting at $149 per month for Data Catalog
The publisher also announced an evolution of the storage architecture to better meet the challenges of exascale compute-based data environments, manageability of 5,000 requests per second and 10 million concurrent transfers, and compatibility with ID management providers. But also moving data directly from multiple compute nodes. Upcoming features include: BASH command-line interfaces for REST communications, full integration with Authentication and Authorization Infrastructure (AAI) for file systems, token authentication for object storage
On the price side, Nodeum is available from $149 HT per month with the Data Catalog version, including catalog functions, reporting, LTFS tape management, support and community tools. The $899 Business version also adds management of up to 100TB of data, support for a resilient node, architecture, rules-based data orchestrator, data workflows, container support, and business support. Finally, the latest 1PB Data Enterprise version also supports multiple nodes for complex architecture, metadata management, and enterprise-class customer service. The price of this last range is defined directly between the customer and its supplier.