Preview in Seoul (PIS Seoul) 2022, the textile fashion exhibition, organized by the Korean Federation of Textile Industries (President Sang-woon Lee) was held in August in Seoul. 311 national and global startups in textiles and fashion participated in this exhibition. And so it presented global trends and new technologies and green digital products. These are sustainable innovation strategies for the textile and fashion industry.
Bio-based and biodegradable products at PIS Seoul
Among eco-friendly textiles, several new organic products and biodegradable materials were the most attractive. Hyosung TNC first introduced in Korea, "Creora Bio-based" bio spandex made by replacing carbon-based material with corn extract for the first time in the world. They expanded the eco-friendly textile area to spandex following polyester and nylon.
NeoEnpla introduced DuPont's "Sorona" with the main ingredient of corn sugar and "Graphinus", a highly functional, eco-friendly elastic yarn that has been fused with multifunctional graphene fiber extracted from graphite. Kyungbang Limited and Ajin International introduced natural elastic yarn blended with corn fiber for the first time in Korea to signal their entry into the alternative spandex market.
In addition, biodegradable materials such as biodegradable PLA yarn using corn and sugar cane extracts from CORESHTECHBio-based membranes and nylon fabrics from Shin Han Industries, ONECHANG Materials and Heyone Corporation, and Hanji leather from Hanwon Moolsan Corp attracted much interest.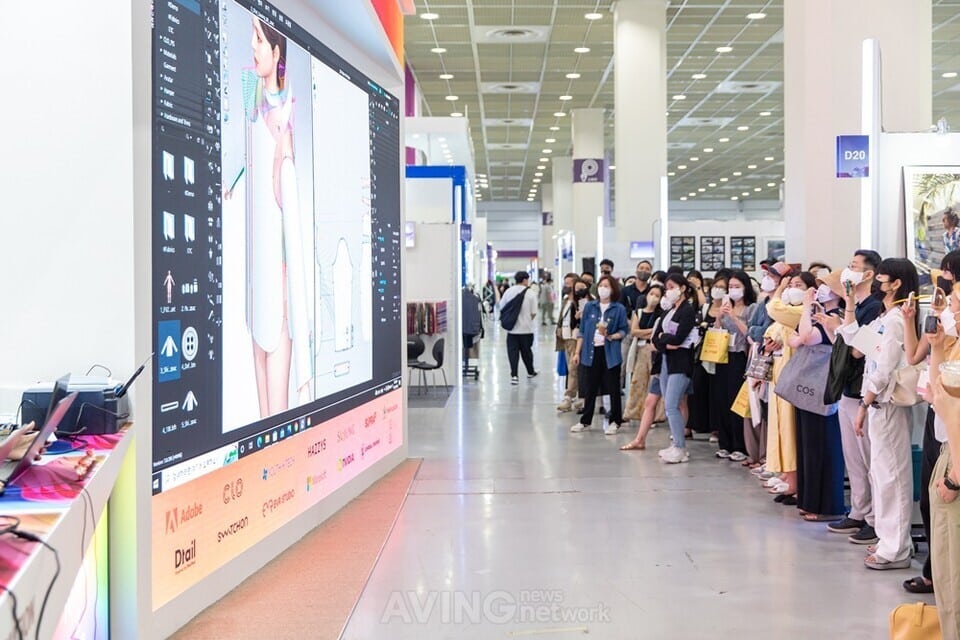 Fashion show and textile exhibition, two shows in one
This year's PIS Seoul has established itself as a textile fashion exhibition leading to digital innovation with the hybrid fashion show held as an opening event and the Digital Fashion Pavilion led by CLO Virtual Fashion and Adobe Korea and in which Microsoft and Nvidia participated.
"Next Gate Fashion Show" is a fashion show that combines virtual and real clothes with products in collaboration with 15 eco-materials companies and designers Hwan-sung Park (D-Antidote) and Chung-hoon Choi (DOUCAN) who pursue sustainable fashion. and presented a clear concept to the audience.
The "Digital Fashion Pavilion" attracted the most interest during the exhibition period. 14 companies, including CLO Virtual Fashion, Adobe Korea, Microsoft, Nvidia, Pixelful, LF, Sejung and F&F, participated in a new experience combining technologies such as 3D, augmented virtual reality and the metaverse. This pavilion showed the future of a whole new textile and fashion industry.
During 'PIS Seoul 2022', where around 10,000 people attended over the course of three days, buyers praised the exhibition's strong composition, including new content that could not be seen at other exhibitions and that they seemed very happy to see new material from participating companies that are leading the market.
Korean eco-friendly products caught our attention. We carry out extensive consultations with knitting materials companies and subsidiaries with innovative and excellent technology.

Braunstein, Head of Concept and Design at Luxury Brand Michael Kors
Additionally, Victoria, Marc Jacobs' fabric procurement team leader, held a meeting with a jacquard fabric company to plan a product for the upcoming season and promised more consultations in New York next month. Casey, design director for ASRV's premium sportswear brand, also consulted with companies focusing on outdoor windbreaks, waterproof fabrics, and elastane fabrics with good stretch.
In the aftermath of the trade war between the United States and China, there is a trend towards reduced dependence on Chinese raw materials. In the future, PIS will replace China Expo as the platform that connects the global supply chain.

Messe Frankfurt Korea CEO Yong-joon Jin