Fiat has just reorganized its range of finishes for the electric 500. But the Italian brand took the opportunity to raise prices of several thousand euros. A price upgrade that clearly doesn't go unnoticed on this little city car.
The electric Fiat 500 saw its sales increase, reaching the podium of French and European electric car sales for several months. Its style and practicality won over buyers. Its price was also a good argument in its favor, as this model started at around €25,000 (before the ecological bonus). Except there was a change on September 15, 2022 as detected by Automobile Propre. Fiat has just updated its configurator… and the entry-level Fiat 500e is now €30,400.
Tesla isn't the only one with significant price swings. The minimum entry ticket for the Fiat 500e has just been increased in one day from €25,400 to €30,400, that is, an increase of 20%.
A review of the range of 6 to 3 finishes
It is the reorganization in the finishes that would partly justify the increase in the entry level of the electric Fiat 500 by more than €5,000. The smaller finish fades in favor of a version that offers a little more equipment. The fact is that all prices for the Electric 500 range have increased significantly.
Until now, the Fiat 500 electric range consisted of 6 finishes: Action, Action Plus (or passion), RED, Icon, Icon Plus and La Prima. Some finishes were associated with only one of the two engines: 70 kW with a 23.8 kWh battery or 87 kW with a 42 kWh battery. Finally, whether you were interested in the convertible or 3+1 bodywork, the choice of trim and engines was again different. If you lose your Latin, it's normal. It is for this reason that this revamp of the range is probably a good thing.
From now on, you'll have to choose between 3 finishes: "new 500", RED and La Prima. They are available for all engines and bodies, with the exception of the RED finish, which is not available in the 3+1 version.
However, you will need to be careful with the new entry-level trim, some elements previously included (in a trim like Action Plus) become optional packages displayed at €1,200. The comfort package and the tech package can be interesting, but they still add to the bill by more than €2,400.
The new Fiat 500 electric prices for September 2022
We've listed the prices for the new range to help you see more clearly:
Bodywork – Finishing
Motorization 70 kW
(23.8 kWh battery)
87 kW engine
(42 kWh battery)
Sedan – new 500
€ 30,400
€ 33,900
Sedan – RED
€ 31,400
€ 34,900
Salon – The Prime
€35,000
€ 38,500
3+1 – new 500
€ 32,400
€ 35,900
3+1 – The Prime
€37,000
€ 40,500
Convertible – new 500
€ 33,800
€ 37,300
Convertible – RED
€ 34,800
€ 38,300
Convertible – La Prima
€ 38,400
€ 41,900
Many variations were created in this evolution of the range. Until now, the La Prima versions were reserved for the larger battery (42 kWh), while the RED and basic version were only available on the small battery (23.8 kWh). Now you can opt for a 500 with the small battery but with a premium finish. You can also have access to the convertible version, or 3+1, with the small battery and the simpler finish.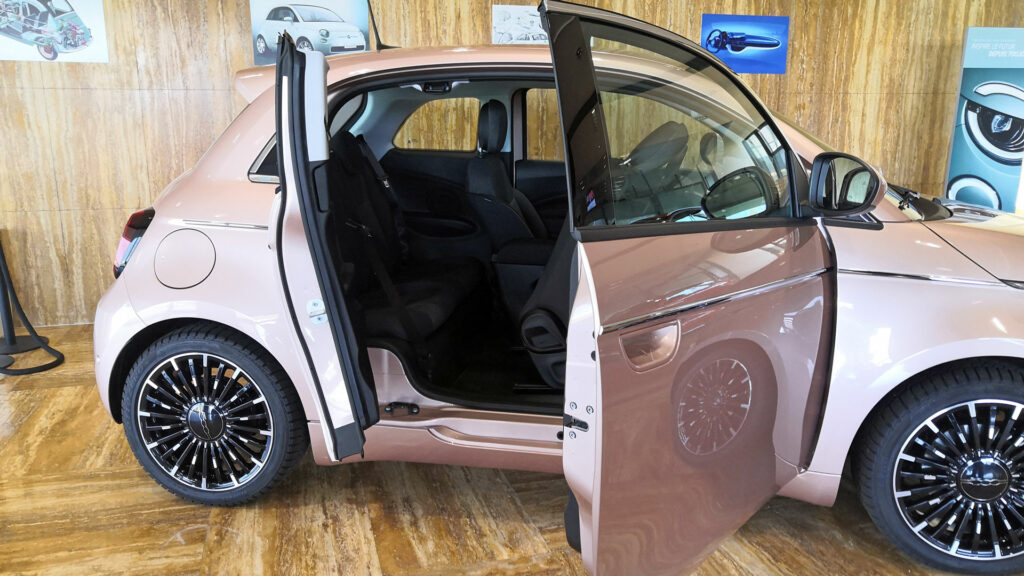 The fact is that in the finishes that remained identical to the catalogue, the displayed prices suffered a lot. The RED and La Prima finishes saw their prices rise by €3,000 compared to the already significantly increased prices of the 1ster January 2022.
| | | |
| --- | --- | --- |
| | 23.8 kWh sedan (entry level) | Saloon La Prima 42 kWh |
| april 2021 | € 24,500 | € 34,900 |
| January 2022 | €25,400 (+ €900) | €35,900 (+€1,000) |
| September 2022 | €30,400 (+ €5,000) | €38,500 (+ €2,600) |
All electric models undergo increases
This increase in Fiat prices is quite significant, prices inflated between 10 and 20% depending on the finish. But Fiat is far from the only carmaker raising prices. Of course we see this at Tesla and other American brands like Rivian or Lucid. We also noticed that brands, such as Volkswagen, remodeled their ranges and took the opportunity to increase prices.
The low cost Dacia is not far behind, as Spring has gone in a few months from €16,990 to €19,800 for its basic configuration.
Paradoxically, while many brands are revising their prices upwards, the Chinese manufacturer MG has just announced a new MG4 starting at €28,990. Customers will end up having a hard time understanding how a compact sedan can be cheaper than a mini-city car like the 500, which now exceeds €30,000. Difficult!
The turbulent electric car price zone is not over. Raw materials and production costs continue to rise. All of this has a significant impact, particularly on the price of batteries, which make up a large part of the selling price of an electric vehicle.
Moral of the story, if you like an electric car, don't take too long to decide. Between the fall in the €1,000 bonus in 2023 and the rise in raw materials, which will have an impact on prices, currently betting on a drop in the price of electric vehicles until the end of the year seems a little risky.