Sono Motors, a pioneer in solar mobility, hosted its first ever community event "Celebrate the Sun" with over 1,500 guests. During the event, the Munich-based OEM celebrated the debut of the world's first affordable solar electric vehicle (SEV), the Sion, in its production design, and the launch of its new 'solar bus kit', a scalable B2B modernization that reduces fuel consumption and greenhouse gas emissions in city centers, thus contributing to climate protection.
"We are extremely excited that Sono Motors can provide clean, affordable and affordable solar transportation for everyone. The first releases of the Sion production version and the "solar bus kit" represent a giant leap in realizing our vision of a sustainable world and advancing our mission to reduce carbon emissions."said Laurin Hahn, co-founder and CEO of Sono Motors.
"Producing our series validation fleet and featuring the Sion in its production design is another step towards fulfilling our promise of an affordable solar-electric passenger vehicle. In addition, business diversification by establishing our B2B solar business as a strategic pillar helps us achieve our key objectives. We are expanding our Sono Solar business with our new "solar bus kit" and have successfully increased our B2B customer base."
Le Sion: Major steps towards series production have been completed
Starting from an idea among friends in a Munich garage, Sono Motors pioneered solar transport by developing the Sion, an affordable and reliable VSE for the general public. Sion's unique market position, combined with Sono Motors' patented solar technology, ideally positions the company to benefit from a growing shift towards a more sustainable future and empowers everyone to contribute to green mobility. climate through the combination of the company's disruptive technology and accessibility.
In its final production design, the Sion received major updates from previous concepts. : exterior and interior now have fewer lines and clearer surfaces.
The Sion's revamped exterior design includes new headlights and taillights, a new lower side design, new door handles, a sleek rear with a new camera and 3D lines, and a new cargo cover.
Inside, the Sion offers a more spacious and cleaner cabin with more storage, redesigned front and rear seats and a new steering wheel. It will also offer new colors and finishes for interior surfaces.
The outer shell of the Sion, intended for families, will consist of 456 half solar cells perfectly integrated and will allow self-sufficiency on short trips.
The energy generated by the solar cells is expected to extend the range of the Sion's 54 kWh LFP battery, estimated at 305 km, by an average of 112 km (up to 245 km) per week.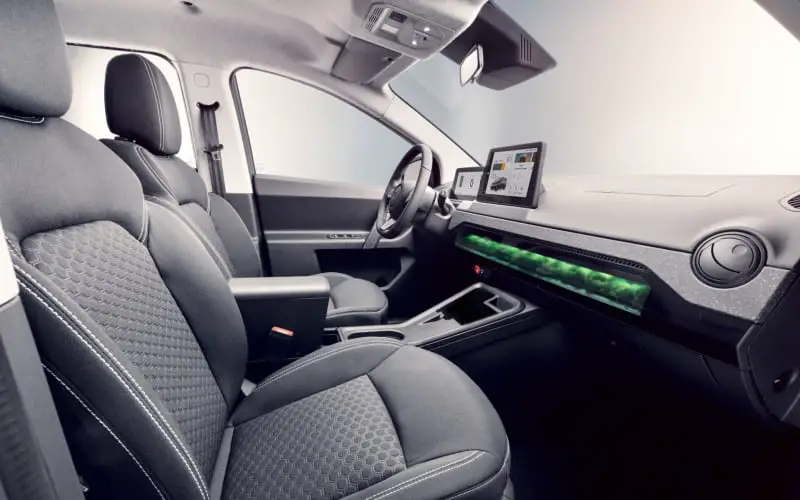 In German metropolitan areas, passengers will need to charge their Sion up to four times less frequently than conventional electric cars in the same vehicle class with a similarly sized battery.
The battery will allow a maximum charging capacity of up to 75 kW (DC) and 11 kW (AC). Two-way charging technology complements the car's solar integration and aims to turn the Sion into a durable power plant on wheels that should be able to power electronics, the home or other electric cars with up to 11 kW.
Sono Motors is currently building its fleet of production validation vehicles in Munich, close to the company's headquarters, to kick off the Sion test program, which has already begun.. In the coming months, this generation of vehicles will undergo rigorous practical tests under extreme conditions, both in Europe and in the United States. These tests include series validation, homologation, crash tests, tests in different climates, technology optimization and sun protection, as well as the refinement of driving dynamics on test tracks and on public roads.
As of July 1, 2022, Sono Motors has over 19,000 active private bookings for Sion, with an average advance payment of €2,225 and an equivalent net sales volume of approximately €415 million, assuming that all bookings result in sales. With an estimated net selling price of just €25,126, the Sion is expected to have one of the lowest TCOs (Total Cost of Ownership) in the midsize car segment, as proprietary solar technology significantly reduces the need to charge the vehicle.
The company has an asset-light approach, with production expected to start in the second half of 2023 via contract manufacturing in Finland, avoiding the need to build its own production facilities. Sono Motors partner Valmet Automotive has extensive manufacturing experience for high-tech OEMs. After a ramp-up period, the partners aim to produce around 257,000 Sion vehicles in seven years.
Solar bus kit: B2B retrofit solution to enable sustainable mobility in commercial transport
The Solar Bus Kit is a simple and versatile solution, optimized for the most common types of 12-meter public transport buses on the European market, including the Mercedes-Benz Citaro and the MAN Lion City. Sono Motors will offer a comprehensive and efficient retrofit solution for bus fleet operators who have a pressing need to reduce diesel consumption and CO2 emissions to achieve their sustainability goals.
The solar bus kit allows subsystems such as the heating, ventilation and air conditioning system to be partially powered by renewable energy, saving fuel, CO2 and costs. The kit can save up to 1,500 liters of diesel and up to 4 tonnes of CO2 per bus per year, thanks to an installation of around 1.4 kW peak with a total size of around 8 square meters of solar panels. Bus fleet operators are expected to benefit from a payback time of around 3 to 4 years, depending on the number of days of operation and the price of fuel. Sono Motors will announce more details at the IAA Transportation show in September.
"Our solar technology already contributes to climate protection and the reduction of CO2 emissions for many partners. In Munich, for example, we work together with the city's public transport company and thus support the city's clean air goals. Such partnership projects demonstrate the potential of our technology for the transport sector"said Jona Christians, co-founder and CEO of Sono Motors.
"We are proud to celebrate the launch of our new solar product, the "Solar Bus Kit", which will allow us to go even further in our mission to make every vehicle a solar vehicle. The brand new solar bus kit allows us to strengthen our solar business by maximizing the scalability of our technology in a huge market: the sector of public and private bus fleets. It also represents an important step on our path to a world without fossil fuels.."
Sono Motors is on the right track with its business diversification plan and is currently providing customized solar solutions to a number of B2B customers. To date, the Munich-based solar mobility specialist has partnered with 19 companies worldwide – including MAN Truck & Bus and CHEREAU – to implement its Sono solar technology in various vehicle architectures such as buses, trailers, trucks and electric conveyors. Depending on the use case, size and type of solar integration, Sono Motors' lightweight and adaptable solution enables transportation customers to reduce costs and emissions across their entire fleet.
[ Communiqué ]
Main link: sonomotors.com