Is it time to look beyond regulatory pressures?
Regulatory pressures have dominated Chinese e-commerce news for the past 12 months. We believe that the priority now lies elsewhere.
No other event better reflects China's passion for e-commerce than Singles Day, or 11.11. This unofficial holiday, originally designed to be Valentine's Day for singles, is celebrated annually on November 11th. In 2009, the CEO of an e-commerce company came up with the idea of ​​turning the day into a 24-hour shopping festival, and that's how it became the biggest online shopping day in the world.
Last year, two of China's biggest e-commerce companies, Alibaba and JD, set a new sales record during Singles' Day with 889 billion renminbi, or about $133 billion. However, the context was inappropriate for overconsumption, given weak macroeconomic conditions and regulatory pressures to achieve the "Common Prosperity" goals.
Singles Day illustrates the extent of growth in the Chinese e-commerce market. Given its size, it might be interesting to consider why it has grown so much and what its future prospects are.
How did the Chinese e-commerce market become the biggest in the world?
China is now the undisputed world leader in e-commerce, having overtaken the North American market in 2016.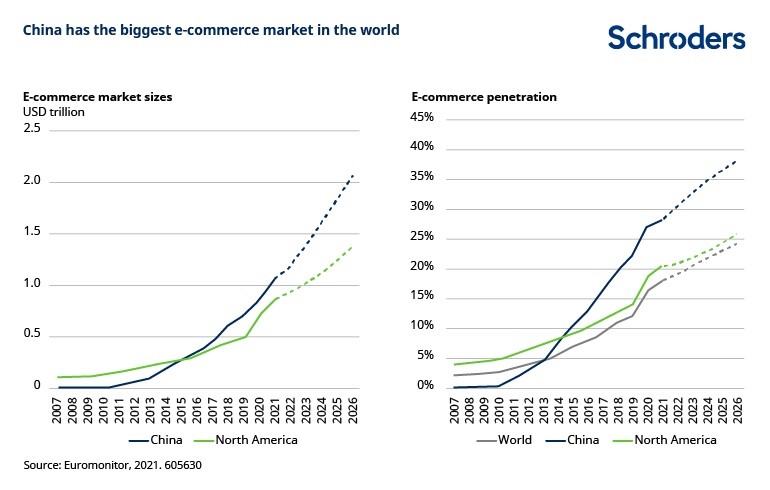 One might think that this first place naturally goes to China given the size of its population, which, with more than 1.4 billion individuals, is almost four times that of North America. However, this does not explain everything. China is, on average, much poorer and its national income per capita is less than one-fifth that of North America.
The size of the Chinese e-commerce market reflects the Chinese population's enthusiasm for online shopping. E-commerce penetration has reached almost 30% of retail sales and represents 6% of GDP. This level is significantly higher than in North America, where penetration has surpassed just 20% of retail sales and represents 3% of GDP. [Source: FMI / Euromonitor, 2021].
Why did the Chinese e-commerce market grow so quickly?
The success of e-commerce in China has not always been so visible. Until 2010, e-commerce activity was practically nil, despite increasing adoption in other countries. The insufficiency of fixed telecom networks in China and the low penetration of PCs have hampered the development of the market.
After 2010, the arrival of smartphones using 3G and 4G cellular networks allowed a rapid expansion of online activity. There are several reasons why China was particularly receptive to e-commerce, as people had widespread access to the Internet.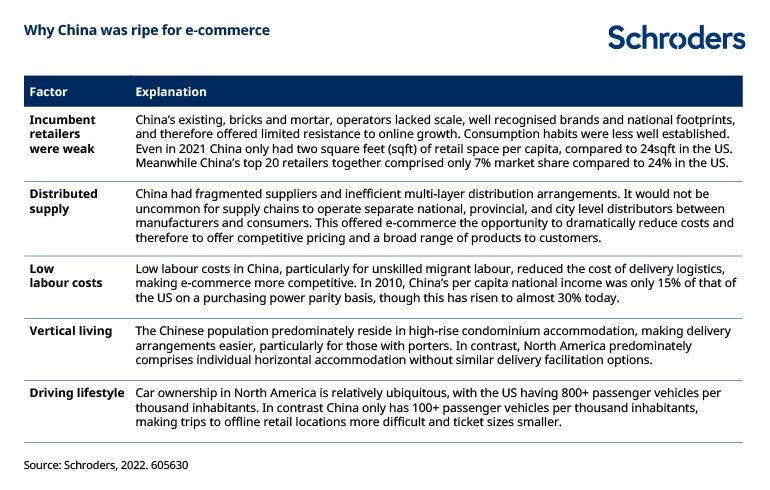 Will the growth of the e-commerce sector continue?
Although China leads the world in e-commerce penetration, analysts have a limited number of benchmarks at their disposal to predict future performance. One thing is certain, however: it will be harder to surpass penetration rates already achieved. The growth of e-commerce in China must therefore stop in the future.
Chinese national statistics suggest that online retail sales grew at a compound rate of 22% between 2014 and 2021. While e-commerce penetration is expected to continue to increase, the 14and China's five-year plan, which runs from 2020 to 2025, predicts a slowdown in this growth in online retail sales to 7.5%. Although this estimate remains cautious, while Euromonitor predicts, for example, a growth of 12% in the same period, everything indicates that the golden age of the sector is really over.
To read the rest of this article, click here.
Our recent articles from expert words educate you on topics such as sustainability, emerging countries, private assets, markets, economics and more.
Important information: this communication is for marketing purposes. This document expresses the views of its authors on this page. These opinions do not necessarily represent those expressed or reflected in other Schroders communication materials, strategies or fund presentations. This material is for informational purposes only and does not constitute a publication of a promotional nature. The material is not intended to represent an offer or solicitation to buy or sell any financial instrument. It is not intended to provide, and should not be construed as, accounting, legal or tax advice or investment advice. The opinions and information provided herein should not be taken into account when making individual investments and/or strategic decisions. Past performance is not a reliable indication of future results. The value of investments can go down or up and is not guaranteed. All investments involve risk, including loss of principal. Schroders believes that the information contained in this communication is reliable, but does not guarantee its completeness or accuracy. Certain information cited was obtained from external sources that we believe to be reliable. We decline all responsibility for any errors made or factual information obtained from third parties, knowing that this data may change depending on market conditions. This in no way excludes Schroders' liability to its customers under any regulatory system. Regions/sectors are shown for illustrative purposes only and should not be considered a buy or sell recommendation. The opinions expressed in this material contain forward-looking statements. We believe these statements are based on our expectations and beliefs in reasonable assumptions within the limits of our current knowledge. However, no guarantee can be given as to the future realization of these expectations and opinions. Opinions and opinions are subject to change. This content is published in the UK by Schroder Investment Management Limited, 1 London Wall Place, London EC2Y 5AU. Company registered in England under number 1893220. Authorized and regulated by the Financial Conduct Authority.