Renewable energy production is a major challenge for our future. Wind turbines, tidal power plants, tidal turbines and solar panels are the new guarantee of clean energy. These new technologies are also becoming a formidable playground for anyone looking to innovate. Classically, wind turbines are these big propellers fixed on giant masts, and planted in fields, or installed in the sea. Sure, they work, but the issue of visual pollution and propeller recycling comes up more and more. In an attempt to solve this problem, a Polish company, Opole Panel Wiatrowy, is inventing fence panels that allow it to use the wind to produce its own electricity. Discovery.
Where did they get this idea from?
The engineers Rafael Juszko and Arkadiusz Zemlakand your manager Tomasz Gruszka, have been working for a few years for a start-up linked to wind panels. To develop their ingenious system, they first took into account the potential of their region and realized that wind energy was undoubtedly the best solution. Rafael Juszko, chief engineer and project manager, graduated in environmental engineering from Wrocław University of Technology. For several years, he designs ventilation systems, is passionate about DIY and sometimes surprises his relatives with his inventions. He also explains that he has already registered an international patent. Arkadiusz Zemlak, he works in corporate banking and IT and takes care of product functionality and design. Finally, Tomasz Gruszkafinancial manager and also project manager, completes the trio after several years working in major global banks… The three men say to themselves that there is something to invent to manufacture a product that can use the wind to produce energy, but who want that accessible to everyone, and more discreet than giant wind turbines.
So what are these wind panels?
The inventors of this process emphasize that their wind barriers should be considered as an alternative to the huge wind turbines that are expensive and harmful to the environment. In Poland they are very numerous, even too many for the three men. Its wind barrier works through a system of turbines that generate electricity by using low wind speeds as is the case with Poland. The energy can thus be produced throughout the year or almost, and would complement the energy produced by solar panels, with which it will not compete. Aesthetically, the "wind panel" is presented as large vertical tubes, with modern architecture, which may in the future enclose the land of a property and supply it with electricity. Tomasz Gruszka Declare that "The wind panel is characterized by silent operation, it is also safe for birds, and can be installed virtually anywhere, on building roofs, production halls, roads and railways."
A revolutionary invention!
At the moment, the panels are being tested in the Opole Science Park grounds, but they should soon move to the pre-realization phase and installation in other structures. The first public facilities should see the light of day in Wrocław and Mielec.
This invention is revolutionary for several reasons:
The production of wind panels and less harmful to the environment and the wind panel has an estimated durability of between 10 and 50 years.
The product is highly recyclable and will be a definite benefit to the environment, greenhouse gas reduction and clean energy production in the future.
The invention of these wind powered fence panels brings a new way to use the wind to produce energy.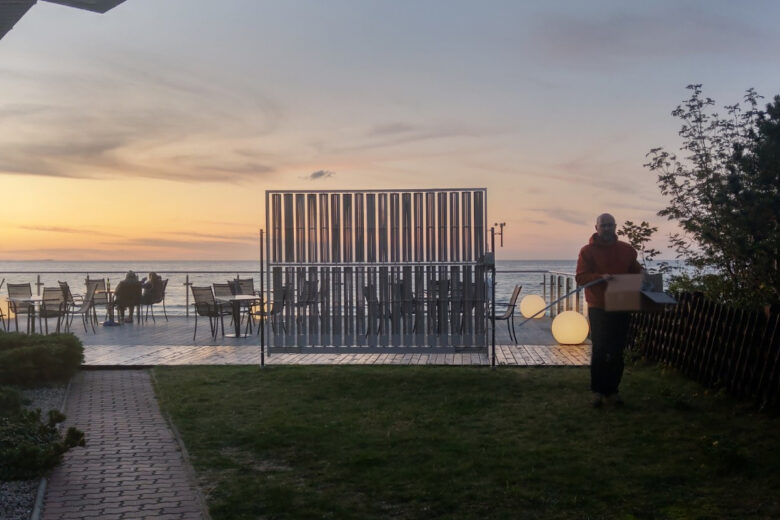 The three partners now plan to commercialize their invention in Poland from 2023 onwards. A brilliant idea, isn't it? More information: opole.tvp.pl