While thermal scooters will have to pay to park in Paris from September 1, 2022, electric two-wheelers will have the right to park for free. However, homeowners still need to take steps to be entitled to it, whether residents or visitors.
Parking with scooter or thermal engine in the French capital will no longer be free from September 1, 2022: this is a change that the Paris City Council has finally managed to implement after several months of delay.
Owners of two-wheel electric vehicles, also known as "low-emission 2WD vehicles", will, however, be exempt from paying because their vehicles do not emit CO2 into the atmosphere. Electric scooters and motorcycles will therefore be able to continue to park for free in Paris, but under certain conditions.
How to park your scooter or electric motorcycle for free in Paris
Even if you own an electric scooter, you will have to go through a step to register your vehicle at the Paris City Council, requesting parking, either as a resident or as a professional.
Electric two-wheel vehicles are called "VBE" on the city's website, for low-emission vehicles.
If you are a resident of Paris
Select the formula that corresponds to your state and your vehicle (here, resident and owner of an electric vehicle), found in the red square on the left.
Thankfully, your entitlement is active for one year! (see screenshot below)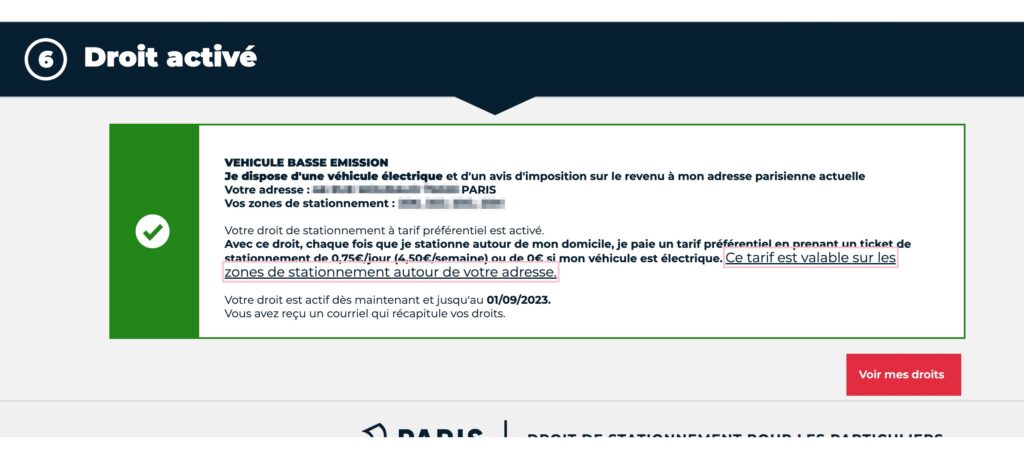 Note that each driver can only benefit from one resident status per vehicle: once one has been registered, he cannot have a second one.

How long is free parking?
You are now entitled to free parking around your house for 7 days (there is a map to know what your free parking zones are). Then you will need to renew the 7 days.
You are also entitled to free parking in Paris, outside your residence, but only for 6 consecutive hours in the same place.
How do I renew my free parking order?
If you had a car, you could just use the small parking ticket and place it in front of the windshield. But as the two wheels do not have a closed cockpit, it is necessary, always in accordance with the instructions of the city of Paris, to use an application to generate an invisible "ticket" that allows you to park without risking the fine.
City Hall mentions PayByPhone, ParkNow and Flowbird apps.
If you are a visitor to Paris
It is almost the same process as for residents, except that you must select the last option: Right visitor parking for a motorcycle or electric scooter (electric motorized 2-wheel vehicle).
How long is free parking?
Unlike resident status, visitor status does not allow you to be parked for multiple days in a row. It only allows free parking, every day, until 20:00.
If you are professional or professional
Parking offers for professionals are different: you must go to the professional desk in Paris to obtain a "professional VBE" entitlement. All requested documents are summarized on this page.
This will also allow you to benefit from free parking for a year if you have an electric scooter or motorcycle.
Free Parking in Paris: The Overview for Private Electric Scooters and Motorcycles
| offers | parking space | Duration |
| --- | --- | --- |
| Resident Offer (to park in front of your house) | In the mixed lanes of the 4 authorized zones around the house in the same field | 7 days maximum |
| Resident offer (to park elsewhere) | All paid seats | 6 consecutive hours maximum |
| visitor offer | All paid seats | All day until 8pm. |