What is the advertised range of electric vehicles? We are comparing three cars with a range of 400 km on a long trip of almost 800 km. Ultimately, what is more important: range, consumption or charging power?
Autonomy is undoubtedly the most talked about characteristic of an electric car. Indeed, advertising a vehicle with enough range to make long journeys seem possible is essential, and manufacturers have understood this.
We've already covered the various vehicles that claim the longest range, but today we're going to focus on two models that claim around 400 kilometers of range on the WLTP cycle and see what that means in real-world conditions.
On a day-to-day basis we will see that the advertised autonomy is of little importance, as long as you can recharge frequently. Thus, during long journeys, two vehicles with the same range can have large differences in total travel time. We saw this recently with the ranking of the fastest electric cars on long journeys.
In fact, in addition to autonomy, other factors seem to be much more decisive when traveling by electric car: charging speed and consumption in particular. Without further ado, let's see what really hides behind a range indicated by car manufacturers.
WLTP vs. Reality
We have already gone back in detail to how the WLTP certification of an electric vehicle was carried out and, as you can imagine, this almost never represents real conditions. The total distance traveled at the time of the homologation cycle is 23.2 km, at an average speed of 46.5 km/h, far from our main motorway trips in France.
As displacement speed is a factor of great influence on the consumption of an electric car, one thing is certain: reaching the advertised range of the WLTP is impossible on the road at 130 km/h. To get a rough idea of ​​the actual range at highway speeds, it's good to only keep around 60% of the WLTP range. A car advertised with 500 kilometers of WLTP autonomy is thus capable of traveling approximately 300 kilometers on the highway at 130 km/h.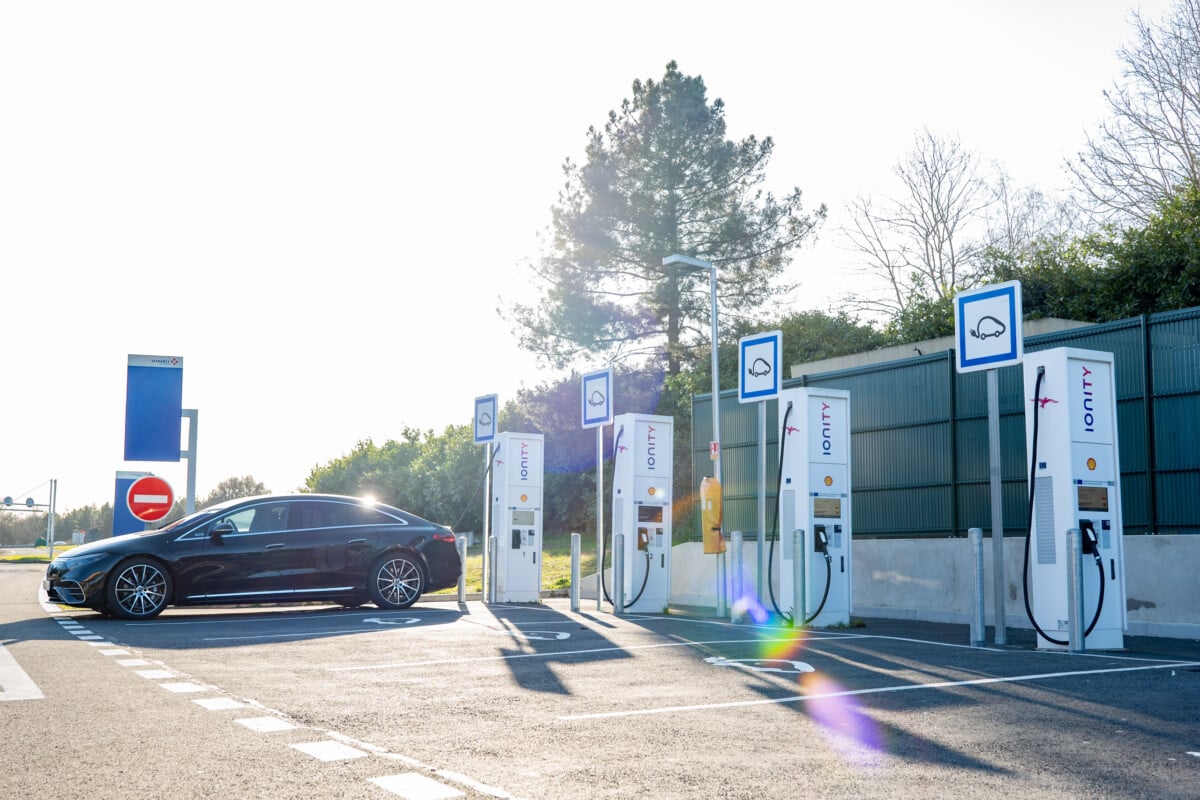 In everyday life, electric vehicles that claim to be the first domestic vehicle, however, have a strong interest in having substantial autonomy in the WLTP cycle, even if this does not represent reality, if only for psychological reasons at the time of purchase. In fact, a family is unlikely to consider a vehicle with 250 kilometers of WLTP range compared to one that indicates 400 kilometers of range.
However, on a daily basis, with an average of approximately 30 kilometers traveled per day by the French, a vehicle with a short range can be more than enough. The condition is, of course, to be able to recharge it frequently, at home or elsewhere.
More and more vehicles are being offered with nearly 400 kilometers of WLTP range on display, from city cars to electric SUVs and sedans, but in practice, are all these cars the same for long journeys? We will see that one of the most important factors must be looked for elsewhere than the level of autonomy presented.
Charging speed: the sinews of war?
As you may have understood, comparing the long journeys of two vehicles that offer the same range can lead to very different results depending on the charging power. We have a number of files specifically on this subject, with the aim of ranking the fastest charging vehicles, to try to identify the ones that stand out. But an essential component remains to be considered when you want to get to your destination as quickly as possible: consumption.
In fact, as we showed in our series on great reference trips with different electric cars, the ones that arrive the fastest are not always the ones that charge the fastest. Two vehicles with the same WLTP range, the same maximum charging power, but different consumptions do not have the same total travel times on a similar route.
Unfortunately, there is no perfect measure that will allow you to quickly identify which electric vehicle allows you to travel more smoothly than another over long distances, but you need to compare all the available numbers to know what to expect. The most difficult thing is to know the motorway fuel consumption of a particular model. In fact, consumption is always announced in a combined cycle, corresponding more to peri-urban use.
Therefore, it is better to use apps like Chargemap or ABRP and simulate highway trips to find out the consumption, charging speed and therefore the duration of a long electric car trip. That's what we'll do next.
To highlight the differences between various electric cars with comparable WLTP range, we'll take the example of the current Renault Zoe, the 2020 Tesla Model 3 Standard Range Plus and the entry-level Hyundai Ioniq 5.
The French has a WLTP range of 395 kilometers, and fast charging (optional at 50 kW) is present in our route simulations. On the other hand, the entry-level Hyundai Ioniq 5 offers a slightly lower range at 384 kilometers, but it is one of the fast-charging champions (221 kW of power on an 800-volt architecture). The Tesla Model 3 Standard Autonomy Plus, meanwhile, had a range of 409 kilometers at the time and a maximum charging power of 170 kW.
Through this practical example, we will see that in practice, two vehicles with comparable range can offer a drastically different travel experience.
demo for example
With the help of the excellent A Better Route Planner, which needs no introduction, we decided to consider our benchmark winter route: 850 kilometers between Caen and Chamonix-Mont-Blanc. The default parameters for both vehicles are fulfilled, with a departure at 90% and an arrival at 10% in the case of the Renault Zoe and Hyundai Ioniq 5.
Hyundai Ioniq 5: a quick ride
It takes 4 recharges to complete the journey in the entry-level Hyundai Ioniq 5, and its battery capacity of 58 kWh means the longest charge lasts just 27 minutes. In total, the travel time is 8 hours and 38 minutes, for 1 hour and 36 minutes of charging. When navigating between the different charging networks available (Totalnergies, Tesla Superchargers or even Ionity), this trip is made a priori without incident.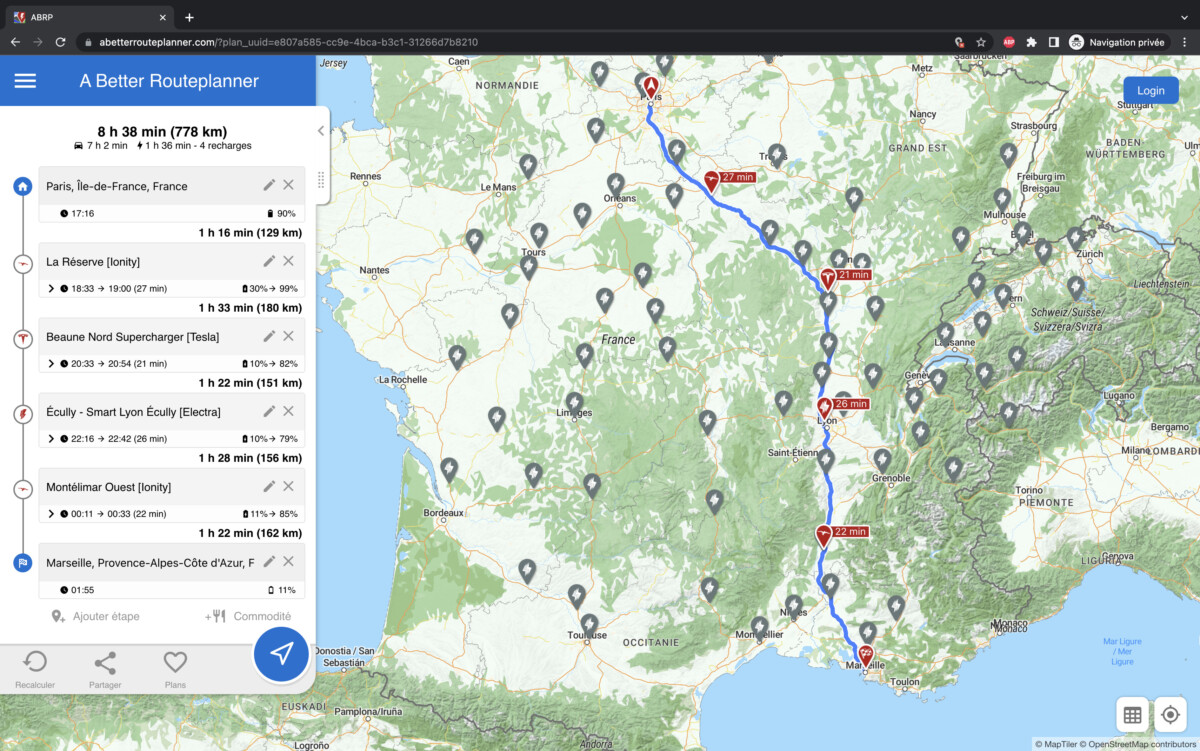 Renault Zoé: very slow charging
With the Renault Zoe offering superior range on paper, despite its smaller 52kWh battery, it takes the same number of stops to reach its destination. But, although it offers a "fast" charge, the French is far from recharging as quickly as the Hyundai Ioniq 5. In fact, takes no less than 4 hours and 33 minutes of charging in total on the tripover three hours longer than on the Ioniq 5!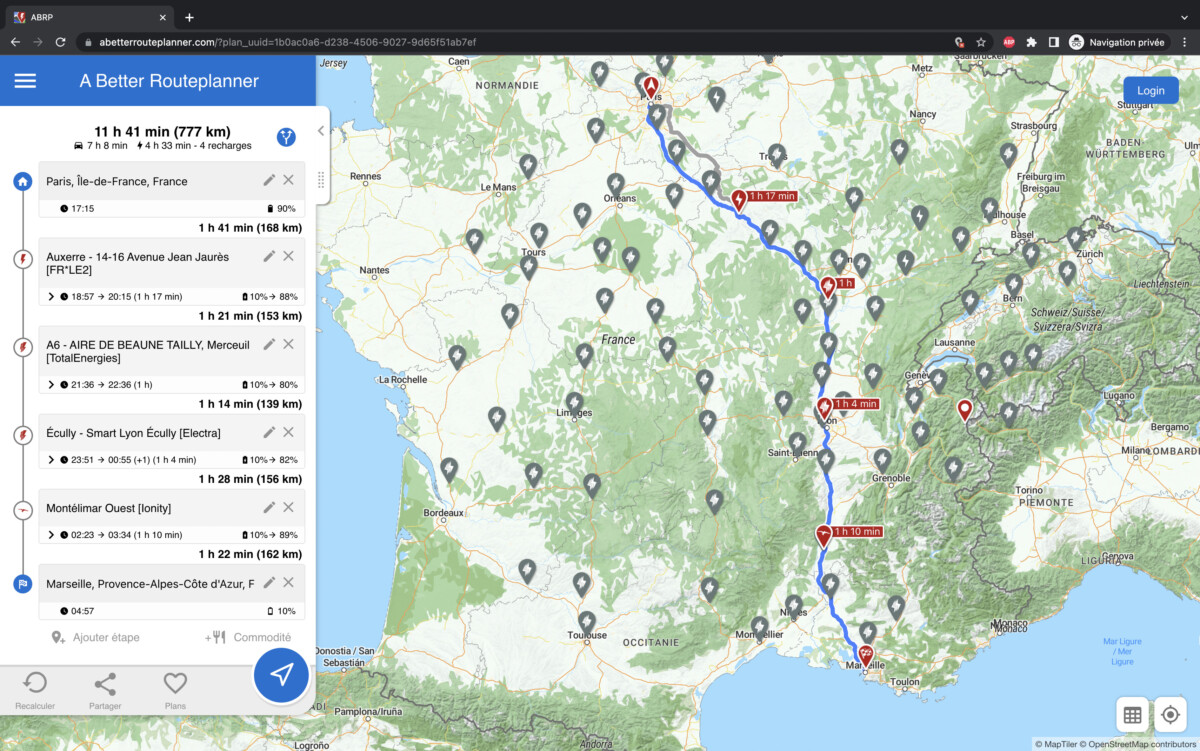 The total travel time is then increased to 11 hours and 41 minutes., which makes this trip a real trip. In addition, we note that the shortest charge is 1 hour minute on the Renault Zoe versus 1 hour and 7 minutes for the longest one.
Tesla Model 3 Standard Plus: record broken
On the Tesla Model 3 Standard Autonomy Plus, the same route is filmed in 8 hours and 37 minutes, including just 1 hour and 24 minutes of charging time. Four charges are required for the Tesla 2020 with a 50 kWh battery. The longest charge lasts 20 minutes and the fastest 16 minutes. The Hyundai Ioniq 5 with a nearly 20% bigger battery and more charging power doesn't fare better, but the estimate is substantially similar so we're within the margin of error with, therefore, a tie between the two cars.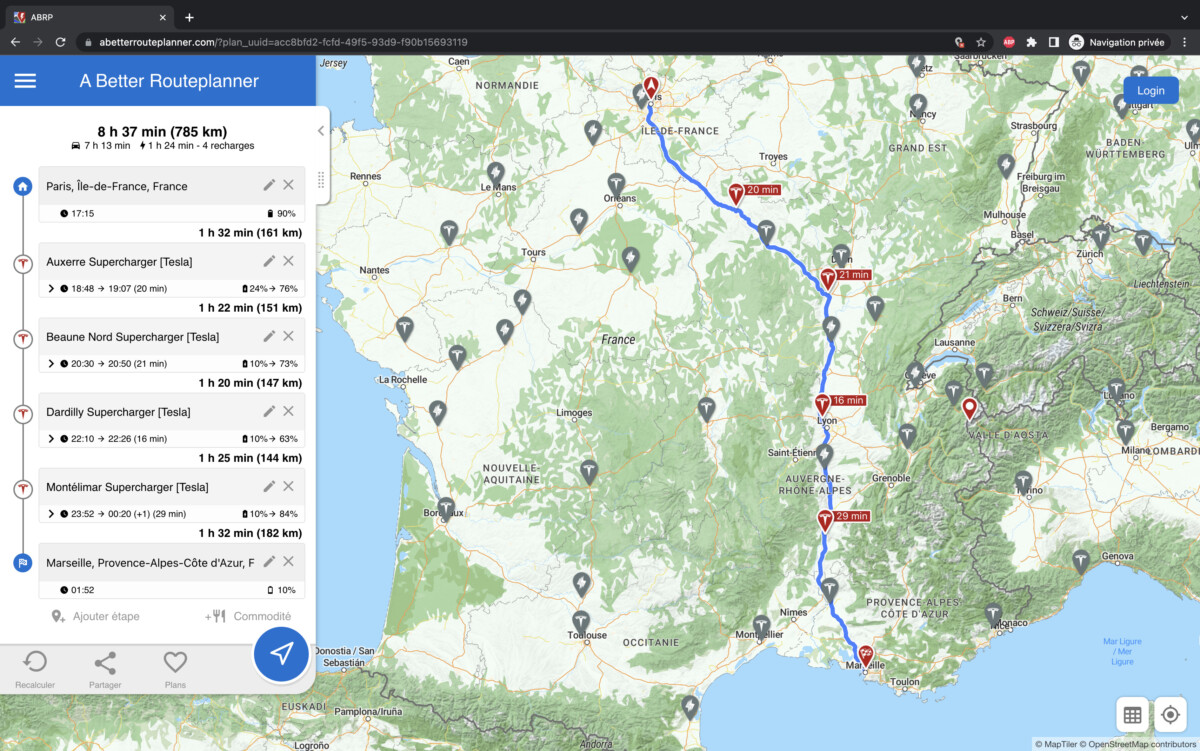 The situation between Tesla and Hyundai is very easily explained by the lower fuel consumption of the American car on the road compared to the Korean one, which manages to tie the game thanks to its higher charging speed. Thus, the Model 3 is given a WLTP consumption of 14.9 kWh/100 km against 16.7 kWh/100 km for the Ioniq 5. The Renault Zoé has a consumption of 17.4 kWh/100 km in a mixed cycle.
This proves that it is better to look at WLTP consumption figures than WLTP autonomy. Obviously, we consciously choose these vehicles to arrive at an outcome that varies greatly. The objective was to show that the autonomy presented was not necessarily significant, especially when one wants to travel long distances.
| Model | WLTP autonomy | Maximum load power | total travel time |
| --- | --- | --- | --- |
| Renault Zoe (2019) | 395km | 50kW | 11:41 am |
| Hyundai Ioniq 5 (2021) | 384km | 221kW | 8 hours 38 minutes |
| Tesla Model 3 Standard Range Plus (2020) | 409km | 170kW | 8:37 am |
Conclusion
Thus, if the WLTP standard exists to compare the range of vehicles and try to make a classification, it must be borne in mind thatdoes not necessarily reflect reality. In addition to the test protocol being performed at low speed, two vehicles with similar range can behave very differently on long journeys.
As far as possible, we try during our tests to share the consumption that we observe, to help you measure the real range of the vehicles. Of course, our long-distance simulations are also a good resource for seeing where a vehicle is when it exceeds its advertised range compared to others.
Anyway, try to keep in mind that the advertised range is only relevant in some real cases, but it gives a small idea of ​​the vehicle's capabilities. In practice, long journeys like the one described above allow realize the benefits of really fast charging and contained consumption instead of longer autonomy.
In short, instead of WLTP autonomy, when buying an electric car, it is better to look at the side of WLTP consumption and charging power. Be careful on this last point, as manufacturers communicate the maximum power (rarely achieved in practice) and not the average power, which differs a lot according to the vehicles and their loading curve as explained in the previous file. The best thing is to mention the time needed to go from 10 to 80% autonomy.
Finally, to avoid surprises and purchase a vehicle that does not meet your expectations, do not hesitate to consult our dossier on planning long journeys by electric car, which allows you to see more clearly the factors to take into account at the moment. of purchase.
---
To follow us, we invite you to download our app for Android and iOS. You can read our articles, archives and watch our latest YouTube videos.