Rob'inn. This is the short name of the robotic arm equipped with a gripper and four cameras that was piloted at Veolia's furniture waste recycling center in Bègles for a few months. This is the third unit to be put into service by Veolia in France to specifically treat this type of waste from mattresses, springs and other sofas that combine plastic, scrap, wood and upholstery materials. Already well established in heavy industry, automotive and space, these robotic arms are now also increasingly common in the waste treatment and logistics sectors, two growing sectors.
Autonomous robot, telemedicine, video surveillance: Orange is testing 5G in its Bordeaux "Lab"
"Double the yield of treated waste"
Designed by the Saint-Etienne Siléane company with Veolia, Rob'Inn is piloted by an operator via an extremely simple touchscreen interface after just one week of training. "The robot makes it possible to double the production of treated furniture waste and handle waste weighing up to 50 kg. At the same time, the operator is no longer behind the wheel of a mechanical shovel, but sitting in a calm environment. conditioning, thus reducing the risk of accidents and musculoskeletal disorders"underlines Jean-Christophe Poultier, director of Veolia's Aquitaine recycling division.
Articulated arm by Rob'Inn, in Bègles (credits: Veolia).
Investment cost of this new waste treatment line: 2.3 million euros in total, including 400,000 euros just for the robotic arm. Of this total, Veolia benefited from considerable public support with €250,000 in subsidies from the Nouvelle-Aquitaine Region and €100,000 from Ademe (Environment and Energy Management Agency). The sorting chain dedicated to furniture waste processed 16,000 tonnes of waste per year. It now operates 20,000 tonnes thanks to six operators and will eventually increase to 24,000 tonnes. Capable of recovering elements as small as 5 centimeters, the Rob'Inn is also known for ensuring better waste recovery with a purity rate of over 95%, particularly for wood.
How your fridge and car are shredded, recycled and sold to Bassens
"Dramatic Productivity Gains"
So many advantages that Alain Rousset, president of the regional council, is happy to take on: "The robotics sector is essential! It doesn't destroy jobs, it creates them. Robots are also a solution to the problems of recruitment, as they allow to improve the quality of life at work, although the productivity gains are spectacular!"
A tireless promoter of the factory of the future, Alain Rousset spoke precisely during the inauguration of the Fives Syleps facilities, in Martillac, south of Bordeaux, this Thursday, June 23rd. Founded by Thierry Boisnard under the name Synapse Robotics, this company joined the Fives robotics group in 2017 to become the Fives Syleps subsidiary. It now has around 300 employees, for a turnover of 56.7 million euros, spread over four locations, including the Technople Bordeaux Montesquieu, in Martillac. It has new facilities where around fifty employees work on the development and manufacture of autonomous robots dedicated to logistics.
"With Propuls, we want to implement the factory of the future in SMEs in six months! »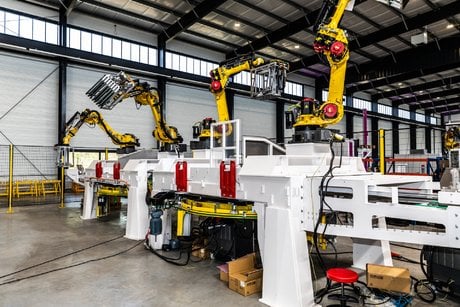 Five Syleps' OPR robots work in pairs, joined on a platform (credits: Fives Syleps).
A return on investment of around seven years
One of these robots, eight of which are already working in the warehouses of agri-food brands such as Système U and Intermarché, is soberly named OPR, for order picking robotics. It is able to assemble or distribute pallets of varied goods in record time. Its two articulated arms, its cameras, its camcorder and, above all, its priceless homemade algorithms allow it to manage 850 orders per hour during a "a few million euros for a return on investment generally estimated at around seven years". A dozen additional copies have already been ordered, despite very heavy delays that have hampered their manufacture in recent months.
But, here again, these autonomous robots have undeniable qualities to highlight: "The robot adapts to the needs of each customer, store to store, pallet to pallet, improving productivity and avoiding heavy work"highlights Thierry Boisnard, now director of Fives Syleps. "But above all, it allows these warehouses to function when the sector is short of manpower. And when we no longer have manpower, we have no choice: we have to invest! robust machines that will still be around in ten or fifteen years."
Because after investing in the agri-food market, it is in fact the thousands of kilometers of shelves in warehouses dedicated to e-commerce that Fives Syleps bets on with its latest product, presented under the label "Depalletizer for heterogeneous orders".
Those robots hiding behind your Cdiscount package
This robot can handle packages of all sizes up to 35 kg at a rate of 800 packages per hour. The result of four years of R&D, it will be marketed in early 2023 and is intended to integrate the warehouses of DHL, Collissimo and many others:
"We are very much counting on this product, whose specifications are calibrated, at all levels, for the global market: Europe, but also North America, Asia and Australia. Agri-food is already well robotized and we are positioning ourselves today in the market of tomorrow, which will be parcel logistics and e-commerce", assures Thierry Boisnard.
And Alain Rousset to conclude: "Either we robotize our factories or we will have to buy turnkey robots in Korea or Japan. We have to move to cobotics [la collaboration homme-humain, ndlr] and, tomorrow, towards the robotization of agroecology."