We love
The power of electricity in a 2.8 ton van
Silence and soundproofing
Class V comfort and finish
Habitability
very easy maneuverability
We do not like
300km range is too low
Very long charging time
The optional household outlet
The silly deviations imposed by the GPS
Mercedes Charge Me can only be used at Ionity charging stations (uncommon)
Verdict:
The Mercedes EQV is a model of comfort and livability. It's simple, my family is now asking me for this extremely spacious size both in terms of people and luggage. Well equipped, with beautiful finishes, it is a luxurious model, but one that I would appreciate better in thermals. After 1500 km on board, the results are grim: it's not a road car. Its autonomy is very limited, its charging speed very slow. My friends took me to a VTC, and in reality, it's probably the role that suits him best. The EQV is ideal for short trips. But here the entry price for the Avant-Garde version (the only one available) is close to €75,000, difficult to consider just for picking up bread or kids at school.
We drove the Mercedes EQV for a week. Electric evolution of the V-Class, this 2021 model was a great opportunity to see the behavior of such a giant on the road on long journeys.
The plan was simple, a round trip to Yvelines Bretagne with a few kilometers in place. A typical vacation week that anyone could take. We will not dwell on the qualities and defects of the base of this EQV, it is identical in this respect to a Class V thermal.
What interests us here is getting this 2.8-ton electric van out of its comfort zone with a long drive. And then, obviously, we're talking about autonomy. Easy recharge? Enough autonomy? Spoiler, for both questions the answer is no. At least not for long trips.
Very short autonomy for long and comfortable journeys
Mercedes gives its EQV for 353 km on one charge. This is data calculated in accordance with the WLTP standard, which respects basic tests that do not take into account the type of driving of the driver and, above all, are carried out on flat terrain. When starting, get moving "like a good father"the EQV indicates a maximum charge of 366 km.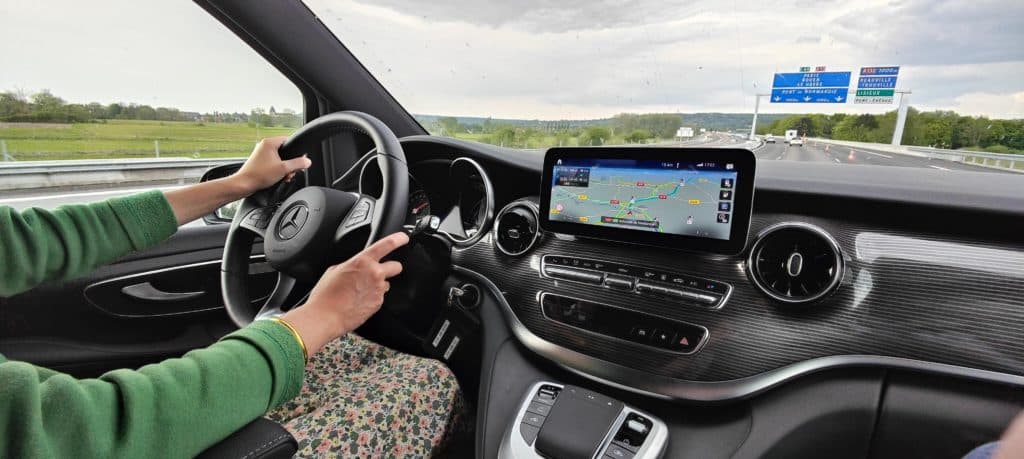 In fact, we never reached any of those miles. On the road, it's 300 km real. And once again, this measure was carried out optimizing our driving as much as possible.
The EQV has different driving modes: Economy+, Economy, Comfort and Sport. This influences vehicle restarts in particular. There is also energy recovery, or air conditioning. Here is our driving pattern for the nearly 1500 km of our trip.
Eco mode+
Maximum energy recovery
air conditioning off
ventilation off
Limiter activated
Always drive within the speed limits
Smooth driving to seek energy savings
Furthermore, the experience of this EQV allowed us to see that the air conditioner was an energy drain. When activating it, the estimate drops from 366 to 300 km, with a charged battery. It's impressive.
With 300 km, we didn't complete our Yvelines Bretagne trip in one go. Mercedes chose to equip its EQV with a useful 90 kWh battery.
An electric motor that responds
Mercedes installs a 150 kW engine in front of its EQV. Pushed to the limit, it develops the equivalent of 204 horsepower and 362 Nm of torque. And I must admit that when activating the Sport mode, it was not ready. It's exciting to see the continuous and rapid acceleration of this 2.8-ton giant.
The maximum speed of the EQV is 160 km/h. The limit in France being 130 km/h on the motorway is sufficient. But what we like is the acceleration and boosts it provides. At the wheel, there is no fear of overtaking, the kick is enough to perform the maneuver safely and quickly.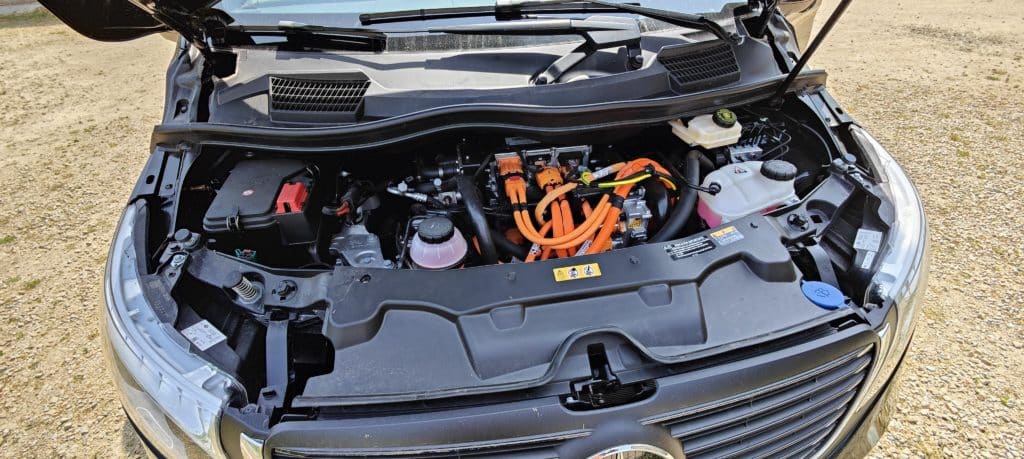 Of course, playing a lot with Sport mode, we violently lose autonomy. This makes it possible to introduce the driving aid we used most during our test.
The EQV we tested was equipped with few assistance options, but one seemed essential in an electric vehicle: the speed limiter. There is also a regulator, but at all costs it maintains the registered speed, enough to sweeten the autonomy in less time than expected. With the limiter, we go slowly, the foot always on the pedal to maximize the recharge and without the risk of being flashed.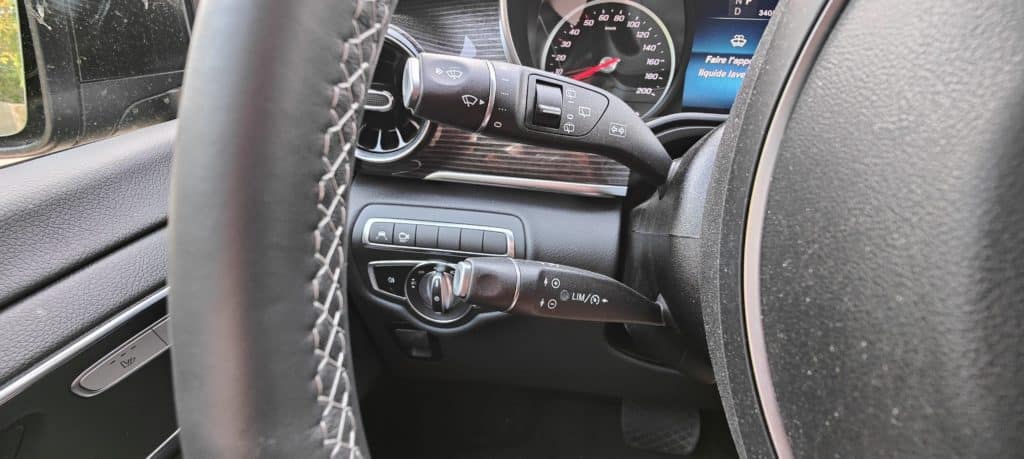 Home charging cable is an option (very expensive)
To guide us on the road, we chose to use the GPS system built into the EQV's MBUX interface. Here in its latest version, it has an intelligent calculation linked to the vehicle's current load to score the route with the necessary terminals.
For a trip of 450 km, we ask to arrive with 30% more autonomy to still have a little freedom of movement once we reach our destination. Undoubtedly, this was what imposed an additional (partial) fee on the trip.
And if you think about the home charging cable, we also came up with the idea. except that Mercedes does not supply this cable when selling. Must be purchased separately, an option charged at €600! And for our part, we had none. It is then necessary to do with the terminals and only the terminals.
Mercedes Charge Me Subscription Lowers Prices, But Almost Nothing
Mercedes offers a Mercedes Charge Me card that allows you to receive half-price charges at partner terminals. Simply put, these are the Ionity terminals and that's it.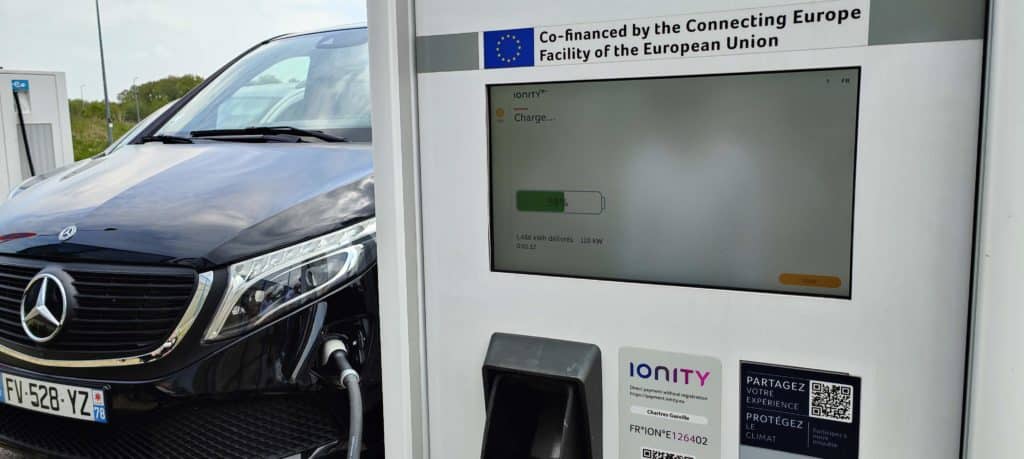 These are fast, but with a park not yet installed. Of the two charges required for our trip to Brittany, the second was at a Total terminal, as there is only one Ionity terminal in Brittany, opposite our destination.
Three tolls to "refuel"
Worse, on the way back, via the estuary highway and then the A13, we had to drive to Mante-la-Jolie. And as we had told the on-board computer to charge at the Mercedes Charge Me's partner terminals, we were treated to the most unlikely detour.
The GPS had us take the toll, exit the highway, take the opposite direction, then take the toll again, to access the Rosny rest area, which is home to a series of Ionity terminals. Of course, to get out we charge the same toll for the last time in Mantes…
Three tolls for a charge, it's totally illogical. The limit of artificial intelligence without a doubt.
Duration, availability, the hassle of charges
We already know it well, among its constraints, the tram has that of time spent at the pump. Ionity, a partner of Mercedes Charge Me, offers 350 kWh terminals. Enough to charge your car in minutes. But now, it still has to be compatible.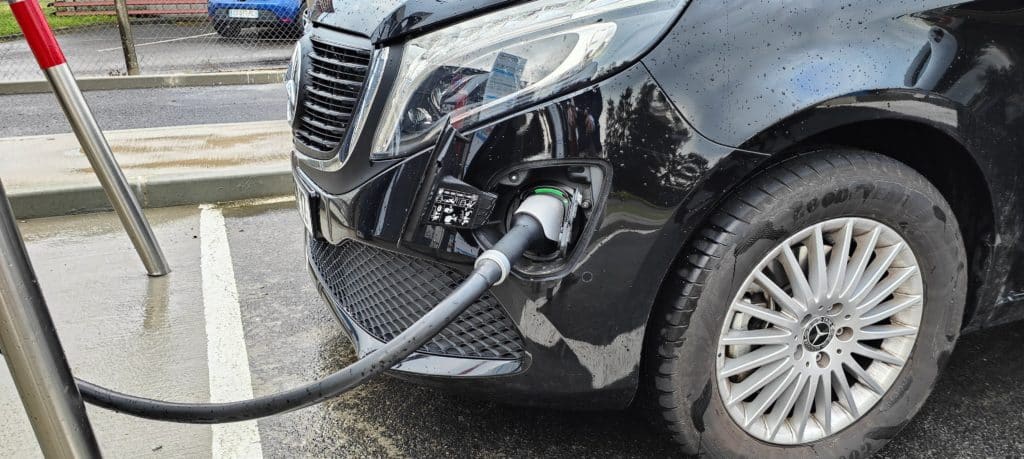 And the Mercedes EQV is not so well endowed. Its Combo CCS socket allows charging a maximum of 110 kWh in direct current. And that seems very low.
From 10 to 80%, it takes 45 minutes at 110 kWh. It's too long on the road. Admittedly, the GPS offers several stops to break the waiting time, but a terminal should still be available.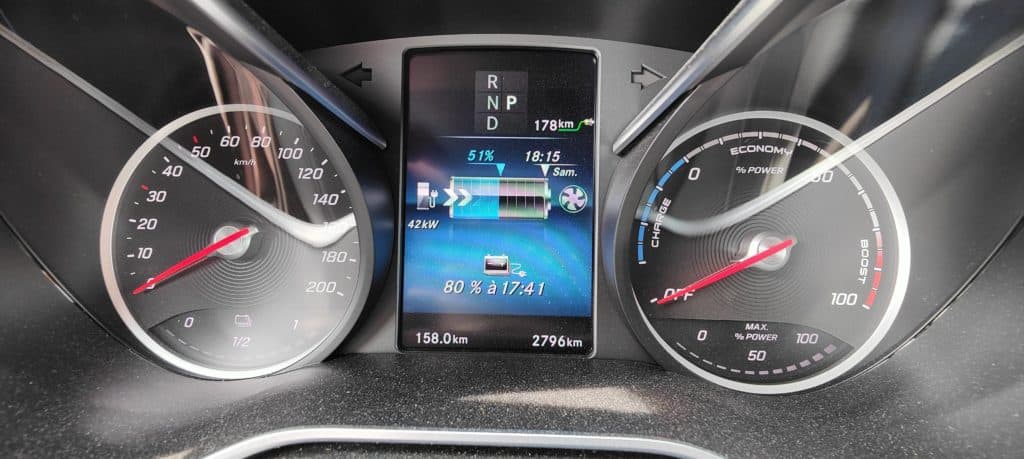 At our stop at the Total Station, two terminals were installed: one with 175 kWh and one with 50 kWh. And both were taken. 30 minutes of waiting to arrive and complete the 25 minutes required by the on-board computer… At the end of the trip, it is difficult for everyone in the vehicle.