The name of the 2022 mini-company will be revealed on Thursday, June 9, during the final of the 21st edition of the contest organized by Jonk Entrepreneuren. What prospects then arise for the winner? The association has no statistics, but in 20 years it ensures that many have successfully followed the entrepreneurial adventure.
Business model change
Among them, FrëschKëscht, mini-company 2020. Its seven founders have distinguished themselves by selling and delivering boxes of local products (fruits, vegetables, pasta, jams, etc.). In just a few months, this brought them a turnover of 30,000 euros. Young people did not hesitate to officially register their company after the competition.
"We continued to sell baskets until last winter," says Ivo Silva, 20, one of the five remaining associates. "Selling every week just got too much" for students divided into different areas, from economics to psychology. Therefore, they decided to focus on the end-of-year boxes and stop selling to individuals, but only to municipalities and companies. Until last December, FrëschKëscht sold an average of 130 cases per week. She took over at Christmas, at the request of 1,117 boxes, of which only 140 were for individuals.
FrëschKëscht in 2020, elected mini-company of the year.

(Photo: FrëschKëscht)

1/2
Two years later, the mini-company continued the adventure, changing its business model.

(Photo: FrëschKëscht)

2/2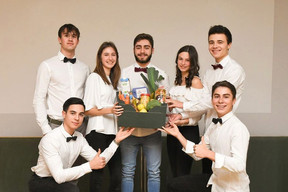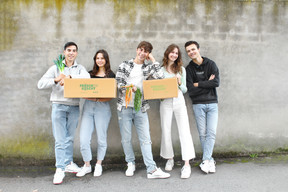 For Christmas 2022, "we know that some customers will not continue", because they chose the boxes as an alternative to their Covid holiday parties. But the company intends to seek new customers. "Our goal is always to increase our turnover (153,290 euros in 2021)", says Ivo Silva, who has felt the soul of an entrepreneur for several years.
The mini-business changed my life at a crucial moment
From card game to marketing
Five years before FrëschKëscht, Konter a Matt won the title of mini-company 2015. "A traditional Luxembourgish card game, with which we wanted to revive the tradition among young people", recalls one of its founders, Michel Logeling. After the competition, "all our team members continued their studies, which led us to give up on the project". For him, Strasbourg was the destination for a degree in economics and management. "During these three years, I discovered my passion for digital marketing." In 2017, he started making explainer videos with a colleague, Jérôme. "We were increasingly asked for other services, which led us to found our marketing agency, Brainplug, together in 2018." Four years later, there are still two of them working with freelancers, but they are thinking about recruiting their first employee. They made a profit of 39,369 euros in 2021, according to the Register of Commerce and Companies (RCS). "My experience with the mini-company project allowed me to take the entrepreneurial initiative quickly, without hesitating too much", analyzes Michel Logeling, now at the height of his 25 years.
Michel Logeling during the mini-company contest in 2015. Since then, he has set up his own marketing agency.

(Photo: Michel Logeling)

Three projects in eight years
Misch Strotz and his team didn't win the competition in 2010, but they did win the bronze medal and the best business plan award. "Our project was a communications agency called Styfly," he says. "With about 20 students, we create flyers, business cards and marketing tools for other mini-business projects or even for our families." At the time, "we didn't yet have the skills to run big campaigns, but it was a good starting point." From which, two years later, Misch Strotz set up his own marketing agency, L-Pod, in parallel with his studies. "At the end of the school year (2010, editor's note), the Styfly project ended, but I personally continued to develop my skills in the field of communication." The desire for entrepreneurship continued in 2018, with the creation of Neon Internet, active in digital and marketing.
"I started with print media at the mini-company, then moved on to video and web development with L-Pod to finally reach social media and blockchain with Neon Internet," sums up the 31-year-old. which already employs 15 people and has a turnover of 1.5 million euros.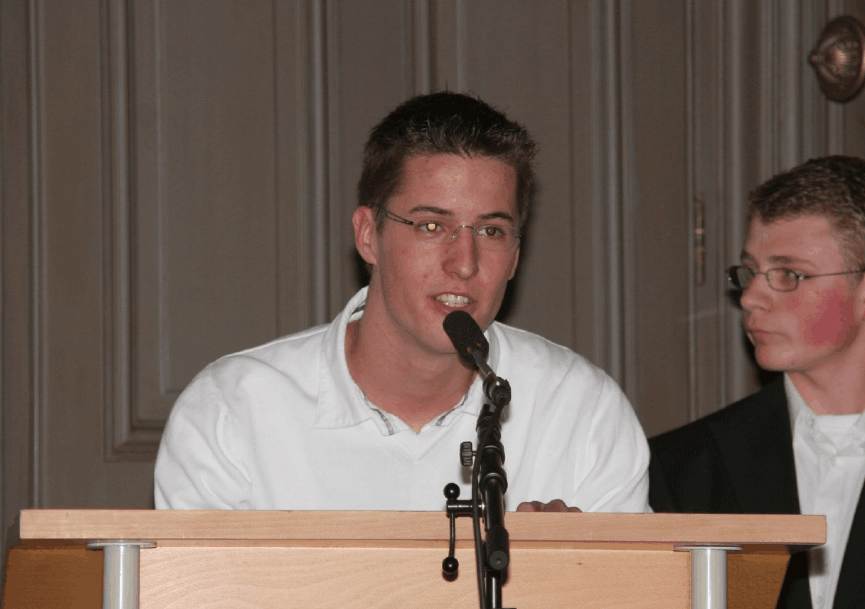 In 2010, Misch Strotz took the podium for mini-company of the year. 12 years later, he is CEO of his own company.

(Photo: Misch Strotz)

"The mini-business changed my life at a crucial moment", he considers. "I was in 3e C (biology, math, physics) and thought I had to become something like a doctor. The mini-company showed me that I could use my personal technical skills and my passion to turn them into a profession. Thanks to this experience, I was sure that I had the necessary skills to launch my business." Styfly will not only have left you insurance, but also "an Excel template file that I always use for various personal invoices".