The slump in the cryptocurrency market doesn't seem to stop Elon Musk from continuing his antics in the field. Because this one regularly returns to seed a few tweets to maintain his hold on a community clinging to his adventures. And his favorite subject is undoubtedly Dogecoin (DOGE) cooked in pump and dump sauce. However, this time, indigestion seems to have reached the ranks of his followers. Unless these billionaire followers of oversold shitcoin have been wiped out by an ongoing digital selection…
It seems like a long time ago a horde of investors shouted to anyone who wouldn't listen that the DOGE would reach 1$. Even if it has to be admitted that with its all-time high of $0.73, that unlikely price was closer than ever…more than a year ago. That's with big hits of tweets posted over and over again by Elon Musk, wealthy owner of the Tesla company and perhaps soon, but not yet, of the social network Twitter. Because he has fun with the last one as with everything else, like a cat with its new toy.
And since negotiations are obviously stuck on this acquisition, Elon Musk returns to the charge with Dogecoin (DOGE). The latter has already been accepted by Tesla to buy its merchandising, but not (yet) its cars. With each of these announcements, new evidence of market manipulation that some obviously mistake for an opportunity. Because it allows the cryptocurrencies in question – even in the case of Bitcoin – to carry out a small artificial bomb. But this time things look different.
SpaceX – Dogecoin as a payment method
Who might be interested in buying internet subscriptions with DOGE cryptocurrency? Because that's all Elon Musk's latest ad seems to achieve. With its Staklink fleet made up of thousands of satellites positioned in low orbit. And pollution – both light and material – has already been treated as problematic. This while China announces that it is organizing to be able to destroy everything in the event of a proven conflict. And that Elon Musk rejected Bitcoin as a means of payment for his Tesla cars for ecological reasons just a year ago.
But in fact, it is impossible to know exactly what this "announcement" actually implies. Not even when this feature will be effective. If that's not Elon Musk's response to one of his followers about Starlink subscriptions: "One day, maybe. » And maybe at the end the incredible possibility of being able to buy a copy of the astronaut suit for your newborn, for the sum of $45 (about 525 DOGE at the current price).
Dogecoin – Elon Musk no longer pumps DOGE
Because the most striking fact of this umpteenth advertisement without real interest is precisely this lack of interest found. Because this time, the start caused by Elon Musk in DOGE will hardly be noticeable. With a maximum increase of 15% in a few hours. But one course immediately fell into its lethargy at the $0.085 level, where it has been for almost 3 weeks. Because this billionaire may have forgotten, but the rest of the world is currently facing a rather troublesome economic crisis.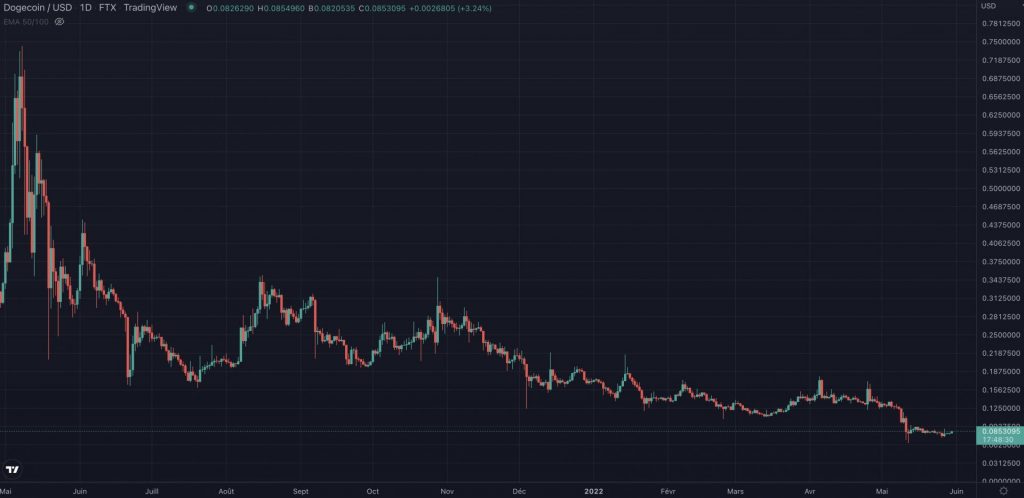 A lack of reaction which is good news. Because the power that Elon Musk wields in the cryptocurrency market represents just a sad (pathetic) admission of weakness. And a good reason regulators see it as a nest for insider traders and other reckless investors to protect themselves. But obviously Elon Musk won't stop there.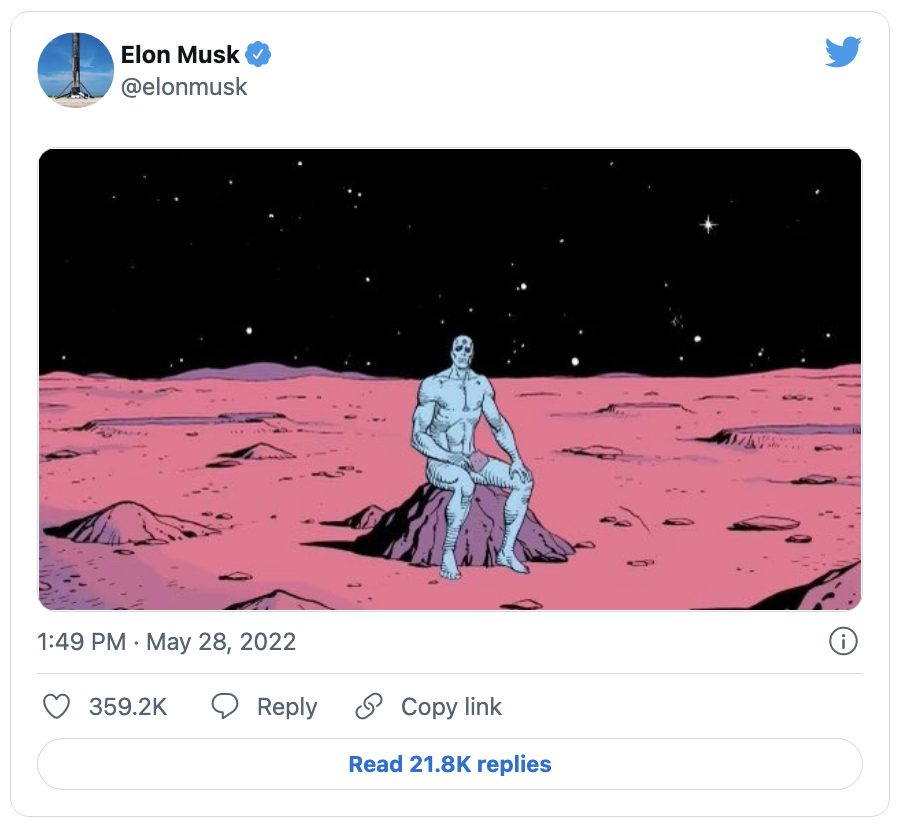 Because he just committed a new cryptic tweet over the weekend, with Dr. Manatthan in the spotlight. And the cryptosphere is going crazy over what that could mean. Because the last time he posted an identical image, November 13th last year, coincided with Bitcoin's ATH (recorded November 10th). But on this occasion, the represented character turned his back. And beyond useless speculation, only one certainty is essential: Elon Musk is once again talking about him to say nothing…