OST-Fenster (1988)
External joinery – 120 employees
"For some issues, we don't even need to talk to each other, because we already know what the other's response will be": Lynn Hilger has worked with her brother Sven since 2012 at OST-Fenster, a company acquired by her father Romain in 1988. After her studies , Lynn joined the company directly, while her brother Sven worked for the first time in other carpentry companies. "Working together was natural, we were never pushed in one direction and we decided to take over together," insists the executive board member. She takes care of human resources and accounting while her brother is more technical and sales oriented. From their father, they inherited the values ​​of respect and trust. As advice to share with like-minded business leaders, the pair underscore the importance of taking a step back and differentiating private from professional life.
Ferber (1928)
Laura and Lionel Ferber, 35 and 32, are the fourth generation at the helm of Ferber.

(Photo: Nader Ghavami/Modern House)

Hairdresser (14 salons) – 160 employees
"Our DNA is the family spirit", explains Laura Ferber enthusiastically. The hairdressing brand manager has been working with her brother Lionel for almost seven years. He takes care of recruiting and accounting, while his sister focuses on marketing, products, and management in particular. "We are very complementary. When coming together, diversity always brings a broader field of vision", says Laura. Your advice for pairs of brothers who want to start a business? Communication is the key to understanding. "We fight like all brothers and sisters, but then we meet for a family meal," says Lionel. Working with someone we've known forever is an asset for Laura: "We've been through a lot and we can trust each other 100%".
National Brewery (1764)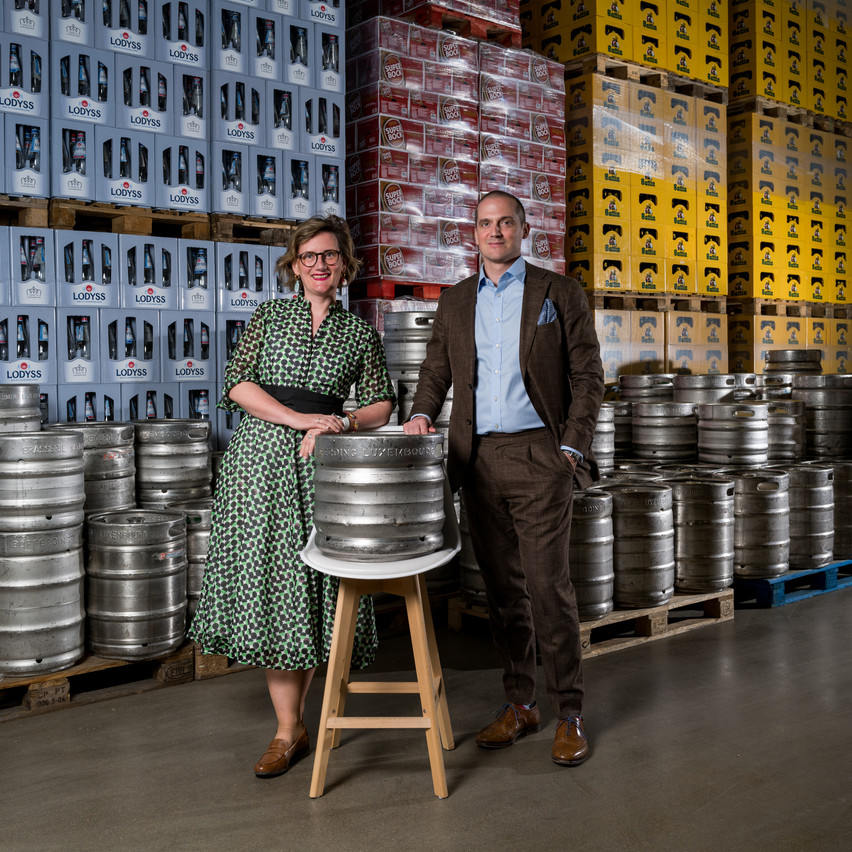 Isabelle and Mathias Lentz, 42 and 40, are the tenth generation at the head of Brasserie Nationale.

(Photo: Nader Ghavami/Modern House)

Production and distribution of beer and beverages – 290 employees
"It wasn't obvious to go into the family business," says Isabelle Lentz, director of sales and marketing at Munhowen, a distribution subsidiary of the Brasserie Nationale group. However, she made the leap in 2012 and progressed through different departments before reaching her current role, as did her brother Mathias two years later. Now the director of Brasserie Nationale, he believes that working with his sister has as many advantages as it does disadvantages "because we know each other". "Sometimes decisions are simplified when you know you have an ally in the structure," adds Isabelle. The pair have collaborated for seven years and advise siblings in the same situation to listen, respect their partner and never react too vehemently, "because we run the risk of putting more things in jeopardy," says Isabelle Lentz.
Schumacher-Knepper (1714)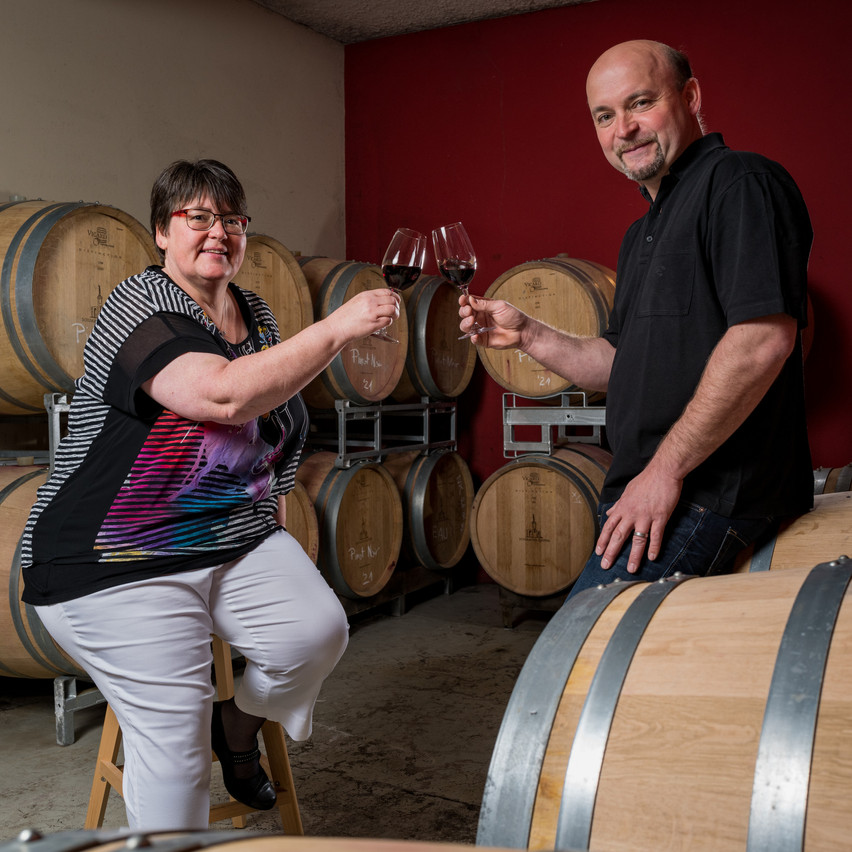 Martine and Frank Schumacher, 51 and 44, are the tenth generation ahead of Schumacher-Knepper.

(Photo: Nader Ghavami/Modern House)

Viticulture – 7 employees
"Being brother and sister has never been an obstacle, but an inspiration": Martine Schumacher has worked with her brother Frank at the family winery since 2002. With a degree in commercial and financial sciences, she takes care of the administrative and commercial aspects, while her brother – graduated in oenology – takes care of production. "The property was part of our childhood as a great playground. Gast and Félice (their parents, editor's note) encouraged us to study and find our own path in life," the duo explains. He says he freely decided to take the torch. As for the advantages of working with her brother, Martine humorously mentions the absence of a job interview. "We already know the candidates in advance, the downside is that there is no trial period…"
Grobusch (1917)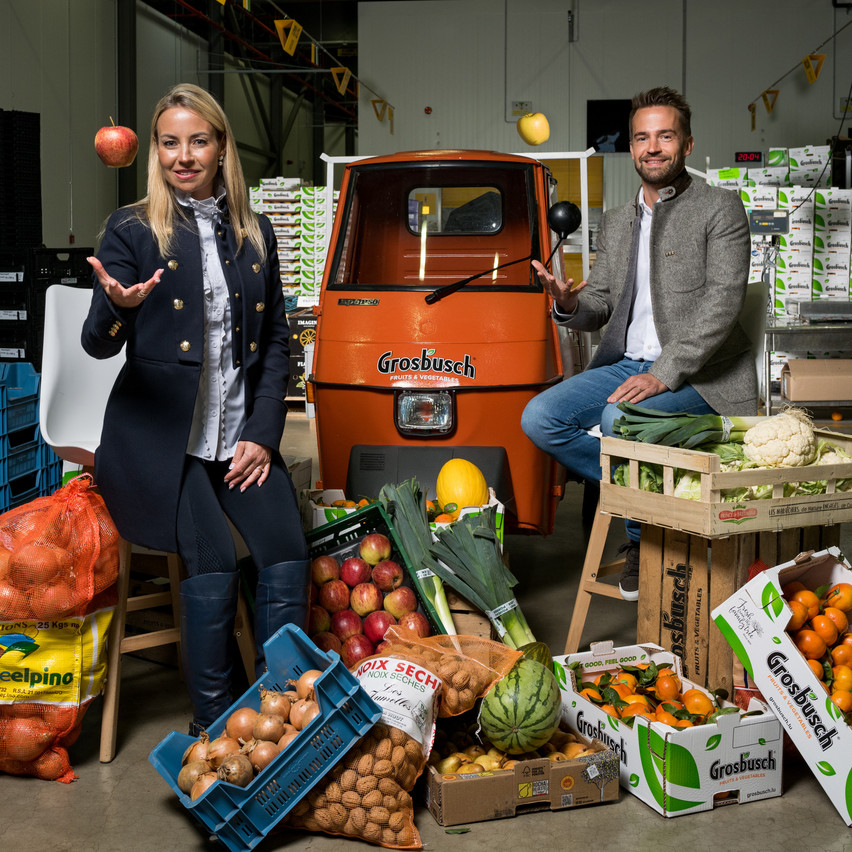 Lynn and Goy Grosbusch, 37 and 34, are the fourth generation at the helm of Grosbusch.

(Photo: Nader Ghavami/Modern House)

Import and distribution of fruits and vegetables – 220 employees
"Our father (René, editor's note) insisted on the importance of doing what we wanted and that we should not feel obligated", recalls Goy Grosbusch, managing director. After his studies, the young man and his sister Lynn worked in different foreign countries, but always in the fruit and vegetable trade. "These courses are ideal for knowing what you like and what you want to do. And after those internships, I found that my sister and I were motivated to join the company." The integration went through the signing of a family letter that defines the roles and functions, an element that the duo recommends to anyone who wants to undertake as a family. "It's a great advantage to have your brother or sister by your side," says Goy Grosbusch, who, however, recommends trying to separate your private and professional life as much as possible in order to succeed in this adventure.
Stefan (1989)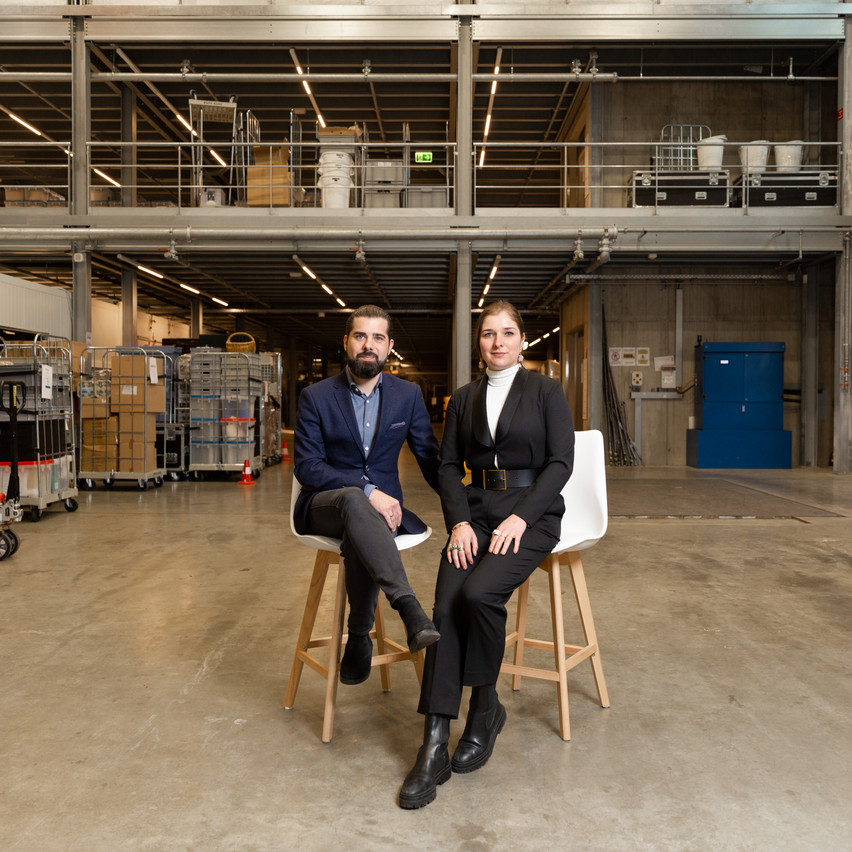 Lisa and Tom Steffen, 26 and 36, are the second generation in charge of Steffen.

(Photo: Romain Gamba/Maison Moderne)

Butcher and catering – 200 employees
"We have no filter between us, we say absolutely everything, even when it's negative": For Lisa Steffen, working with her brother Tom is an asset. This one confirms: "She has the same long-term vision as I do." The duo has collaborated since May 2021, when Lisa joined the family group founded by her father Frank. The younger sister runs the restaurant La Mezzanine du Boulevard and the take-away L'Atelier Steffen located in the Royal-Hamilius complex. Her older brother holds the position of CEO. "We were always left free to decide what career we wanted," says Tom. Like her sister, she studied hospitality before earning spurs at various addresses, both in Luxembourg and abroad. Your advice for enterprising sibling duos? Communication, mutual respect in case of disagreement, and finally spending time together outside the company.
Muller & Associates (1981)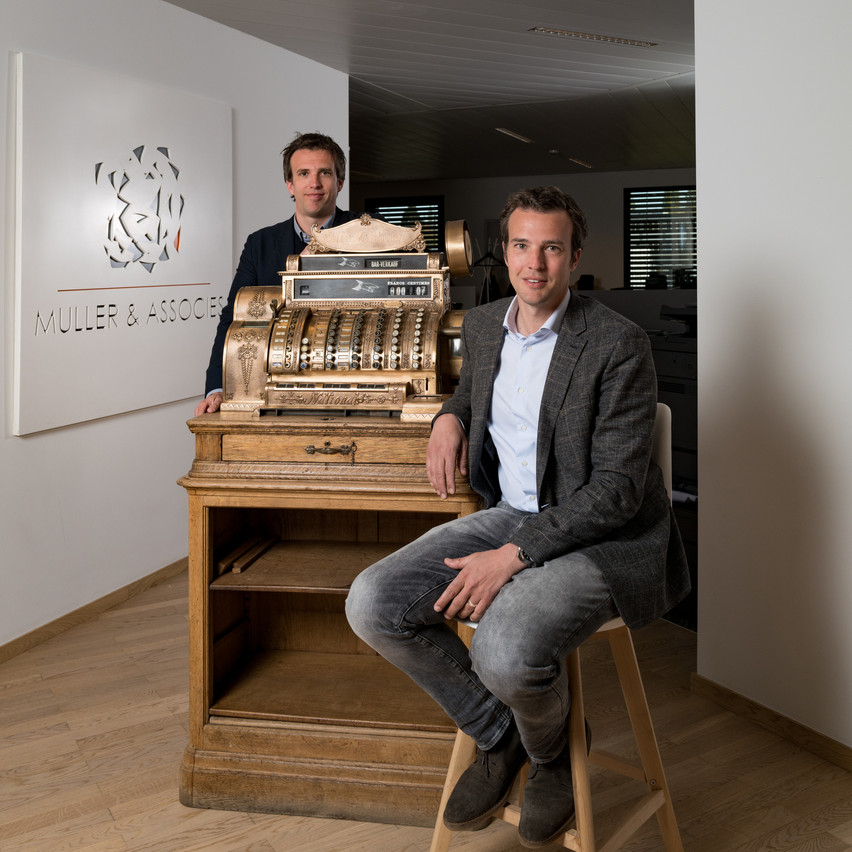 Frédéric and Laurent Muller, 44 and 42, are the second generation at the helm of Muller et Associés.

(Photo: Nader Ghavami/Modern House)

Administrator – 50 employees
"Each decision we make together. Even if I know in advance what he thinks", says smiling Laurent Muller, managing director of the trust company alongside his brother Frédéric. The duo took over their father Marc's company in 2006 and developed their activities by providing auditing and focusing on accounting and economic consulting. "It wasn't very natural for us to take over the business. We had also started a professional career elsewhere", illustrates Laurent. Who says he learned many human values ​​from his father, but accepts his differentiated management of the company: "The company must continue to function when my brother and I are on vacation. In our father's time, governance was different." With each new generation a new way of management.
Aura Luxembourg Group (2012)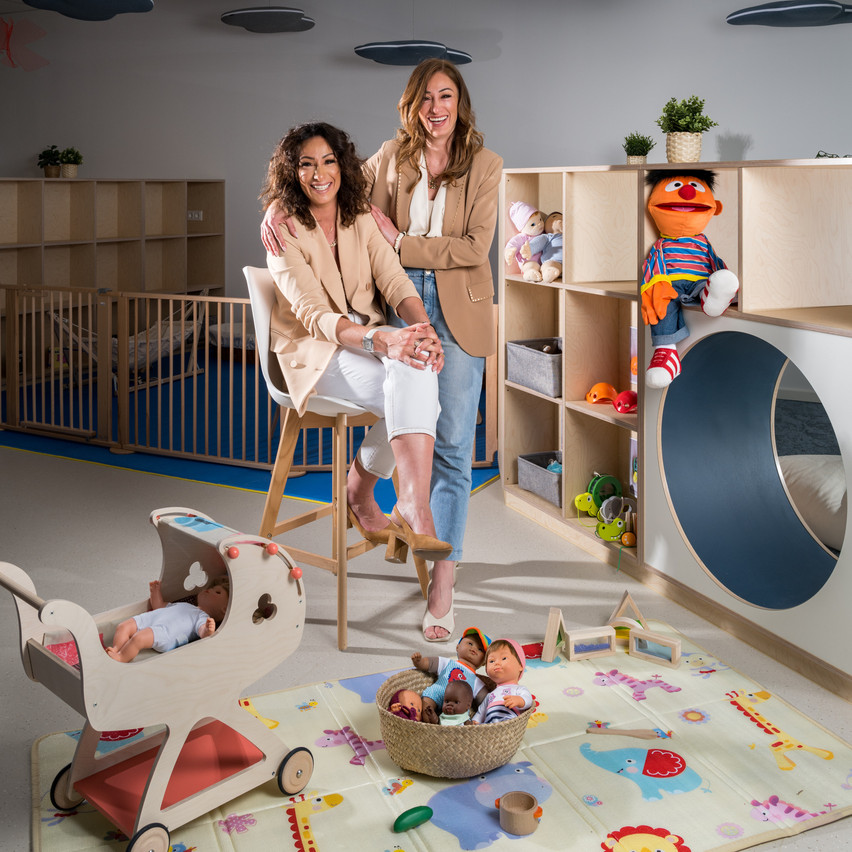 Alison and Héloïse Pierre, 36, are the first generation at the helm of Aura Groupe Luxembourg.

(Photo: Nader Ghavami/Modern House)

Early childhood and commerce – 120 employees
"With the occasional little help, we join forces": this is how Alison Pierre joined Aura Groupe five years ago, founded in 2012 by her twin sister Héloïse. After having evolved in finance, the young woman started to support her sister who created the Les P'tits Bouchons daycare. "Less than a year after my arrival, she offered me a membership. She told me: 'I don't see you as my employee, but as my partner'", recalls the current administrative and financial director of the company based in Foetz. This brings together four crèches, and a fifth is expected in Pontpierre later this year. The Aura Groupe also has the N'Airgym psychomotricity centre, the Aura Academy pedagogical training center and the Eachs concept store, which opened in Esch and is scheduled for next autumn in Luxembourg City.
Weisgerber (1955)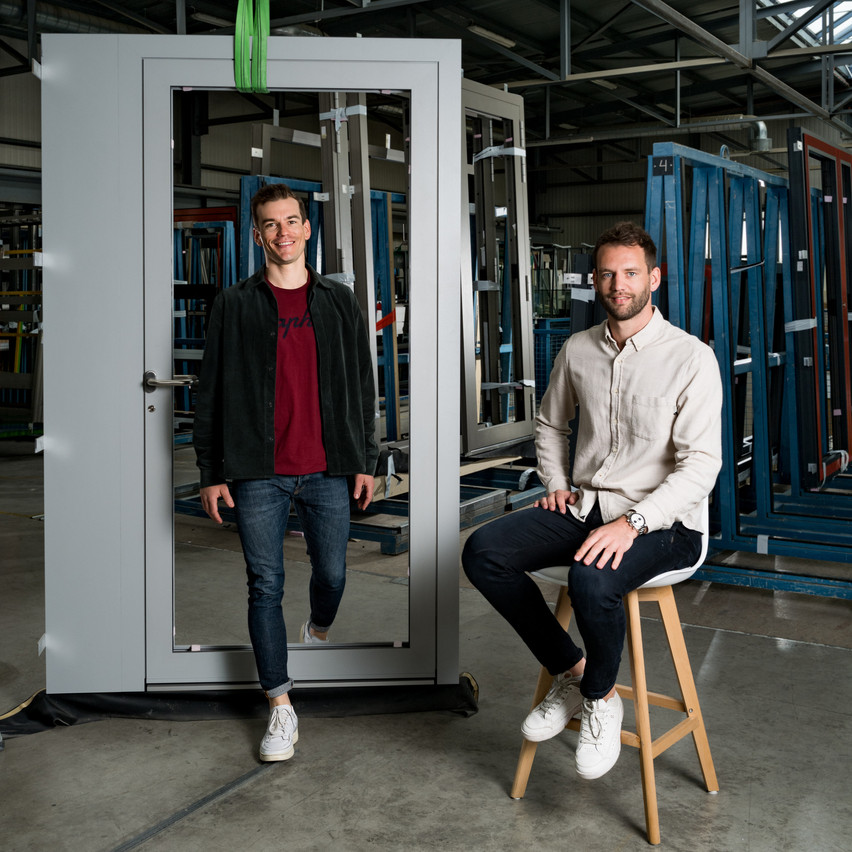 Ben and Pol Weisgerber, 31 and 32, are the third generation at the helm of Weisgerber.

(Photo: Nader Ghavami/Modern House)

Manufacture of aluminum doors and frames – 40 employees
"I identified with the company from the beginning and felt a responsibility": this is how Pol Weisgerber explains his involvement in the family business after completing his studies. The eldest was joined by his younger brother Ben in 2012 and together they became managers. They already knew the firm like the back of their hand: as children, it was there that their grandparents would visit; teenagers, it was where they worked during school holidays. From the previous generation, the duo says they have inherited the importance of the values ​​of trust and respect. "My father and uncle worked together in the early years. They ended their association for private reasons, and that taught us a few things," confides Pol Weisgerber. And to ensure that "it is an asset to work with a person you know very well".
This article was written for the magazine edition
Paperjam of the month of May 2022
published on April 27, 2022. Magazine content is produced exclusively for the magazine. It is posted on the site to contribute to the complete Paperjam archive.
Click on this link to subscribe to the magazine.
Is your company a member of the Paperjam Club? You can request a subscription on your behalf. tell us through
[email protected]