Financial markets have not yet fully realized the growing importance of small and mid-cap biotechnology companies with innovative product pipelines.
Many investors believe that biotechnology is not a particularly attractive sector today. The Nasdaq Biotechnology Index, the benchmark for the biotechnology sector, has dropped nearly 20% in the past 12 months. While some industry heavyweights such as Moderna or Regeneron have posted considerable gains, most small and mid-cap biotech stocks are trading significantly lower than they were a year ago. The 40% losses in the S-Network Medical Break-throughs Index (PMBI) and the S-Network Healthcare Innovation Index (PHIX) reflect this trend. Both indexes only include small and mid-cap biotech and pharmaceutical stocks that have at least one drug in FDA Phase II or III clinical trials.
The current downward trend, however, is explained by the increase in inflation and, above all, by the rotation of the sector, which moves away from growth towards value. This development has affected the biotechnology sector uniformly. Biotechnology companies that still have to finance their development without having achieved a turnover with an authorized product are particularly penalized. As interest rates rise, future earnings are valued less by analysts due to the resulting higher discount rates. The entire biotechnology sector is therefore sanctioned indiscriminately by stock market investors. However, many small and mid-caps are well funded over the medium to long term and have a much better capital base than in the past.
From a fundamental perspective, small and medium-sized biotech companies could benefit more from an overall rally in biotech stocks. According to a study by the IQVIA Institute for Human Data Science, 65% of all active ingredients in clinical development worldwide in 2021 will be studied by biotechnology companies with annual sales of less than US$500 million and whose annual R&D budget is less than US$ 200 million. In 2016, again, the share of these companies classified by IQVIA in the category of emerging pharmaceutical companies was less than 50%. Another data from the study shows how these biotechnologies have clearly evolved: for 76% of their developed products, companies presented their own authorization requests in 2021. This clearly proves that these companies have achieved great financial independence and, therefore, can market their products on their own. without a partner, which translates into greater potential gains.
A well-filled pipeline
Across the biotechnology industry, small and medium-sized companies are becoming increasingly successful in commercializing their pipeline of discoveries as pioneers of next-generation therapies. First are cell and gene therapies, gene editing, and mRNA technology, which have made a major breakthrough with Moderna and BioNtech's COVID-19 vaccines. Currently, about 800 clinically active substances can be attributed to these new approaches. From a fundamental point of view, small and medium-sized biotechnologies are therefore very well positioned. The price increase news stream is here as a large number of clinical trial results and authorization decisions are expected this year, particularly in areas such as oncology, neurology and rare genetic diseases.
BB Biotech's stock portfolio should benefit exponentially. In three years' time, we estimate that the annual turnover of investment companies will more than double. Most product approvals are for cancer, metabolic and neurological diseases (Graphs 1 and 2). Our portfolio companies, Alnylam and Ionis, are awaiting an approval decision in 2022 for a treatment aimed at reducing symptoms of hATTR amyloidosis, an inherited disease that causes protein buildup and severe damage to the body's organs. There is currently no effective treatment for this disease. Pricing power is therefore high.
Expected future revenue growth for portfolio companies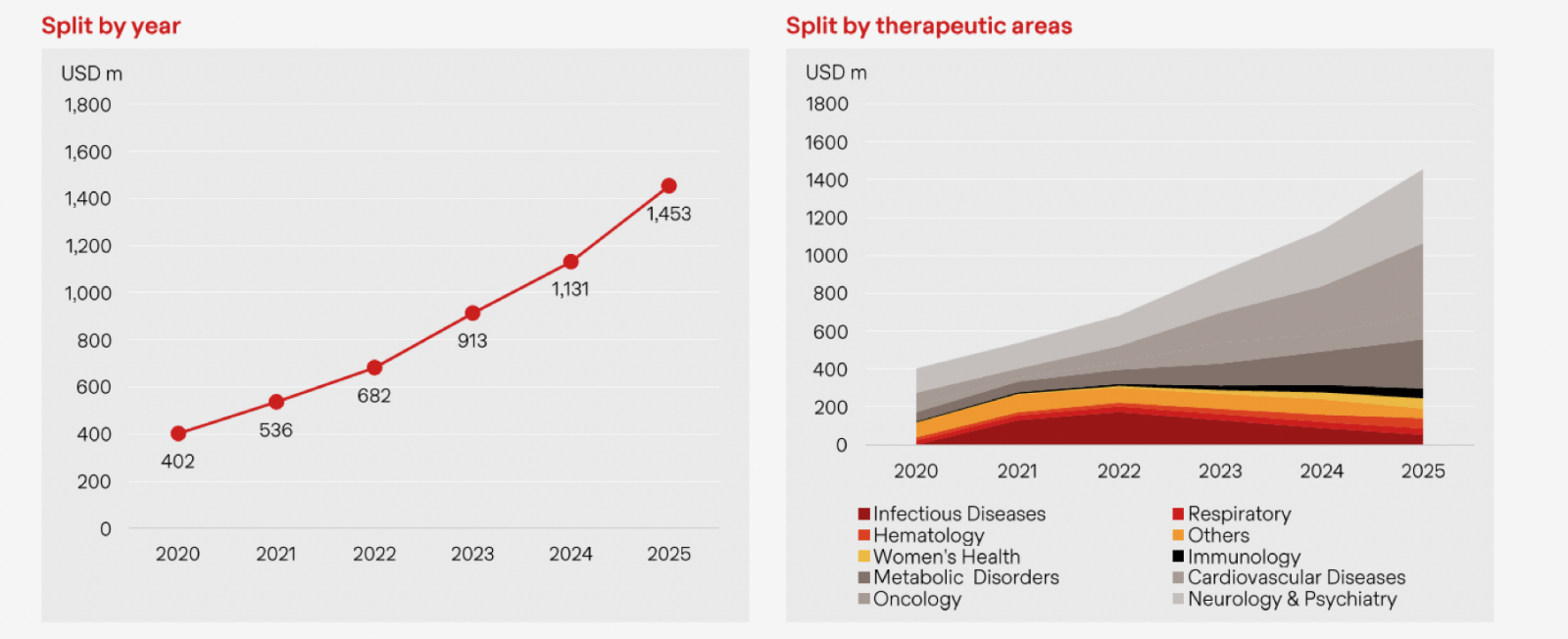 Source: Bellevue Asset Management survey, Bloomberg, May 2021
In the field of oncology, Arvinas is on the verge of achieving a major breakthrough with its new technology platform for molecules that break down disease-causing proteins and primarily target molecules deemed untreatable by therapeutic approaches. This year, the pivotal clinical trial for the most advanced product, ARV-110, intended for the treatment of prostate cancer, is due to be launched, and Arvinas wants to obtain accelerated authorization from the US authorities. Arvinas is launching two more phase III clinical studies with its pharmaceutical partner Pfizer for the active ingredient ARV-471 in metastatic breast cancer for which previous treatments have not worked. Relay Therapeutics is another pioneer in our equity portfolio. The company uses artificial intelligence (AI) and machine learning (ML) to identify the most promising clinical products. Specifically, Relay models and analyzes the movement of proteins on the screen in early clinical trials to study interactions between drugs and their targets and uses this information to identify the molecule with the best efficacy profile.
The feeling is getting better
As positive news from the biotechnology sector continues to grow, investor interest in the sector is expected to increase. Sentiment is already slowly starting to shift in favor of the biotech sector as a whole. According to a recent RBC Capital Markets survey of investors, 66% of respondents expect the biotech sector to outperform this year. In the second half of 2021, the percentage of respondents who considered biotechnology stocks undervalued was 49%; now it's 64%. And 58% of respondents said they plan to increase their exposure to biotechnology.