A retrospective of EVER Monaco 2022, an event that took place from April 27th to 29th in the Principality. An edition during which visitors were able to discover the many faces of electric mobility. A vast panorama that goes from scooters to buses and heavy goods vehicles, passing through city cars like the Fiat 500e or Honda e and high-end sedans or SUVs. Among all the models on display, a small vehicle caught the eye at the Cavallari group's stand. The distributor of the Kia, Volvo, Honda or MG brands presented the Yoyo made by the Italian startup XEV. A small electric car, accessible from 15,000 euros, which will now be sold on the Côte d'Azur.
A car designed for urban traffic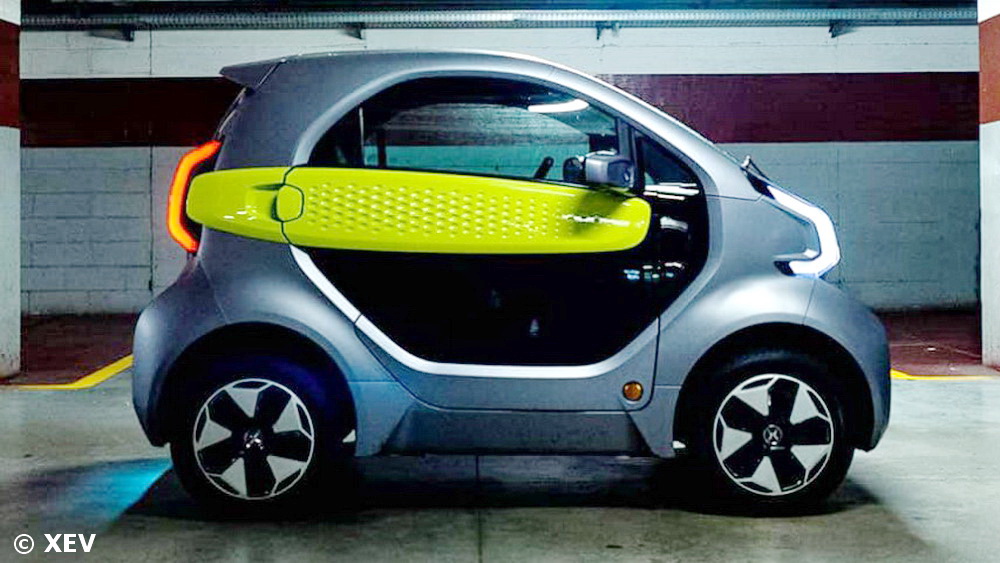 Positioned between the Citroën AMI and the Smart, the Yoyo aims to revolutionize urban traffic. It is a micro-city car measuring 2.50 meters long, 1.50 meters wide and 1.56 meters high. A light car that falls into the category of motorized quadricycles. It can be driven from 16 years old with a B1 license and 18 years old with a B license. Due to its compact size and small turning radius, driving and parking in the city is extremely easy. A city that you will travel everywhere, silently and ecologically, with very low operating costs. Savings are also made on the purchase because many parts of the Yoyo are 3D printed.
decent performance
Installed at the rear, a synchronous motor with a power of 7.5 kW (peak 11 kW) equips the XEV Yoyo. Thanks to its speed and momentum, city traffic and queues will no longer be a problem. The performance of this 100% electric motor is indeed quite right for city traffic. For example, it allows you to reach a maximum speed of 90 km/h and climb slopes by up to 25%. Like all electric cars, it has a good starting acceleration speed. This is especially because it weighs just 525 kg with its 75 kg of batteries. In addition, the Yoyo's 14-inch wheels also ensure a high level of on-board comfort.
Range up to 150 km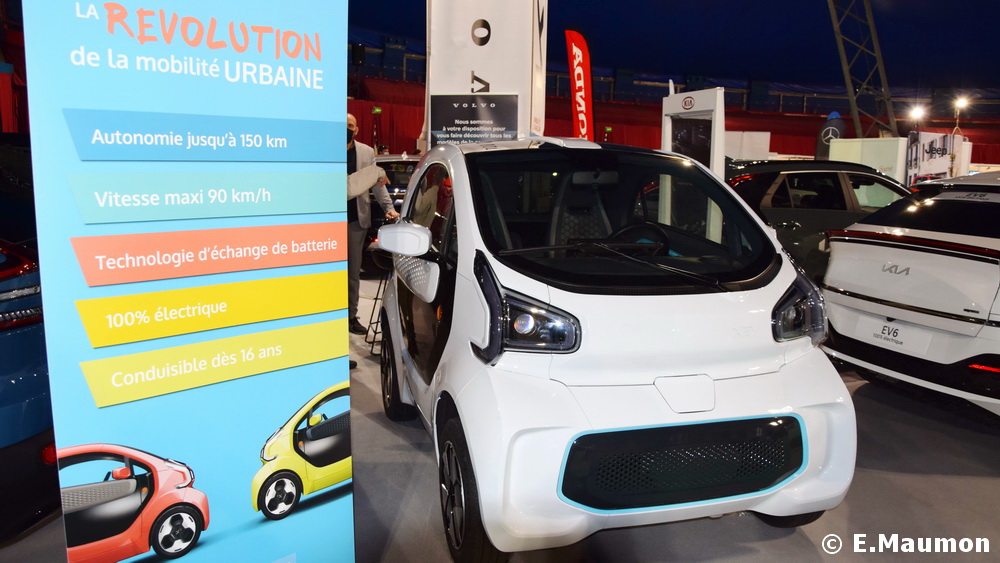 The Yoyo shows an honorable performance in terms of autonomy, as the XEV advertises up to 150 km with a charge. This is not autonomy on the WLTP cycle, but rather on urban routes, Yoyo's main use. A car equipped at the rear with 3 blocks of lithium-iron-phosphate batteries with a total capacity of 10.3 kWh. Rechargeable batteries (from 30 to 100%) in 4 hours from a standard 220 volt household outlet. Through a type 2 cable, Yoyo also accepts charging at public or private terminals. With this autonomy and these two power recharge modes, Yoyo eliminates the anxiety of recharging. However, the XEV goes even further by offering a particularly innovative system in a car.
interchangeable batteries
The XEV battery replacement is a unique battery replacement system with removable module. A system that eliminates loading time. Once the 10.3 kWh modular battery is depleted, it is indeed possible to remove it and replace it with a fully charged battery. This is simply, quickly and completely safe. A system that can be particularly effective in managing a fleet. Companies will be able to equip themselves with charging racks in which they can recharge the various battery modules. They will thus have permanently charged batteries that can come very quickly to replace dead ones. The vehicle fleet will thus always be operational. An individual can also recharge a battery at home, but their weight (25 kg) can prevent this.
A surprising and well-appointed interior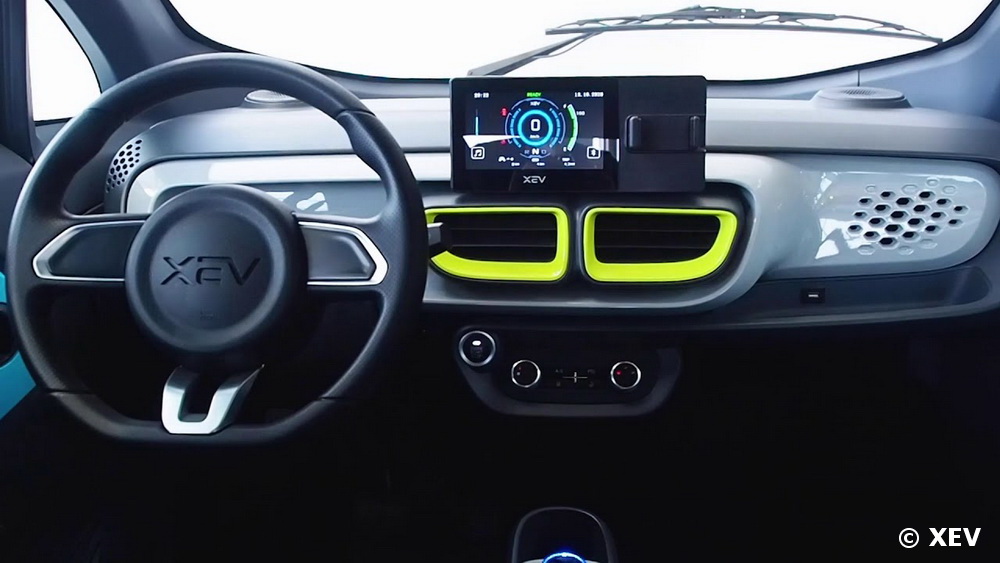 Despite its small size, the Yoyo offers a relatively spacious interior, which is surprising. The large glass surfaces and the panoramic roof reinforce this feeling of open space and illuminate the cabin. A cabin with large, manually adjustable ergonomic seats. The interior also benefits from rapid ceramic heating and air conditioning. Very well equipped, the Yoyo also has electric windows and mirrors, power steering and two speakers. The trunk is not very big (180 liters), but it still allows you to store some groceries. In addition, several small storage spaces are available inside for the occupants. Occupants who will be able to use the 3 USB sockets to charge their smartphone.
A very connected vehicle
The Yoyo is also a very connected vehicle. Starting is keyless by pressing a start and stop button, with electronic steering lock. The smartphone app XEV Yoyo allows remote control of doors, air conditioning and windows. The car also has a Bluetooth multimedia system for music. A system with a 7" screen in the standard version and a 10" screen in the Premium version. A version that also offers a navigation system, in addition to several applications. Control your world at your fingertips on this large touchscreen connected to your smartphone.
A high level of security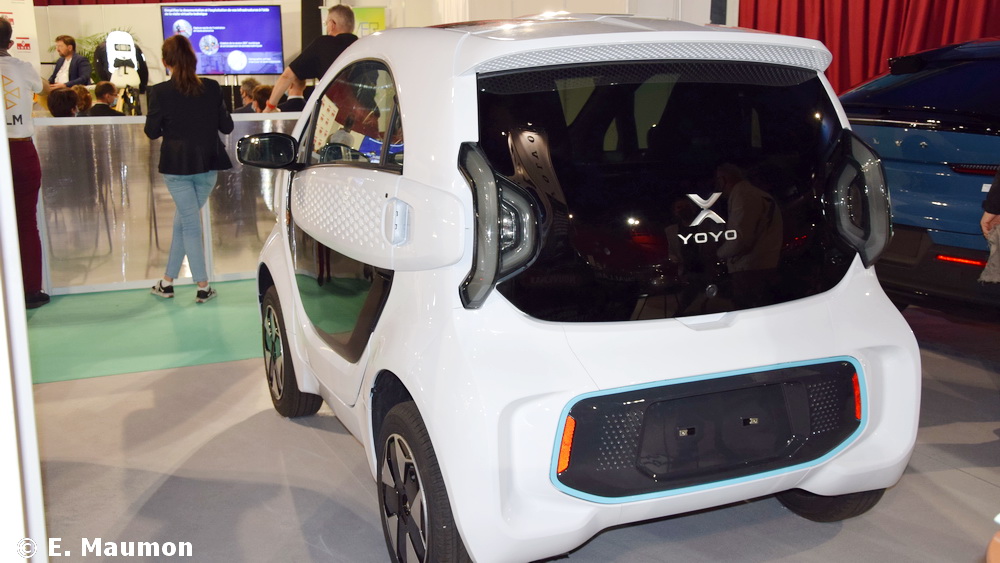 Despite being relatively cheap and very light, the Yoyo does not neglect safety, quite the opposite. Of course, it complies with European safety standards. Its high-strength steel frame offers maximum protection during frontal impacts. Reinforcement side bars, again made from high-strength steel, provide additional protection in side impacts. A steel cage on the side uprights and on the roof prevents crushing in the event of a rollover. Its low voltage battery (72 volts) with intelligent battery management system also enhances occupant safety. The same with the ABS anti-lock braking system and seat belts with tension sensors.
A customizable yo-yo
Yoyo gives you the possibility to express all your creativity to customize it. The massive use of 3D printing to mold many parts also makes almost all your desires accessible. You can easily customize the exterior and interior of your Yoyo with endless color combinations. For the exterior only, you can choose from 9 standard colors. This goes in particular pure white for Gray Prototypepassing through fresh lemonI'electric blueThe Spicy Salmon where the black space. With the interior, the combinations are multiple and the playground is particularly conducive to giving free rein to your imagination. You'll be able to add your personal touch to Yoyo's already very unique design.