Faced with rising energy prices, some alternative providers decided to de-index their offers from regulated tariffs to model them on wholesale market prices. Result: Some subscribers' accounts explode.
Freezing regulated gas prices, limiting the rise in electricity prices to 4%… Implemented last October in the face of energy increases, the price shield allowed the purchase power of millions of French people to be preserved. However, not everyone could benefit from this. Starting with some customers of alternative suppliers who saw their contract modified against their will. Resulting in an explosion of accounts.
Romain is one of them. In 2019, this Ardéchois signed an electricity contract with the green energy provider Planète OUI. For two years, "everything was going great," he told BFM Business. To the point that he decided when he moved in November 2021 to sign a new "gas and electricity" contract with the same operator for 120 euros a month.
But last January, Planète OUI, faced with rising prices in wholesale markets, was placed in receivership. A few weeks later, Romain receives a closing invoice from the supplier. Claimed amount: 1887.14 euros for the period November-February. "I was shocked by the value of this invoice. It was a month of salary", he stresses, explaining that he "rejected direct debit" and asked about "changing supplier".
+483%
If Romain's contract was pegged to regulated tariffs (TRV), Planète OUI appears to have decided on its own to de-index its offer to model it on the much higher prices in wholesale markets. "Nobody warned us. If they had done that, I would have changed supplier immediately. They refused the tariff shield", laments Romain.
The latter was not at the end of his surprises. In March, Montpellier-based supplier Mint Energies took over Planète OUI's customer portfolio, ie 120,000 contracts. This time, Romain's new monthly payments are estimated at €700 per month from May 1, or an increase of 483%. Like him, other customers are informed of a sudden increase in their deadlines by email, citing the company "the current conflict between Russia and Ukraine and the impact of this dramatic context on electricity and gas prices".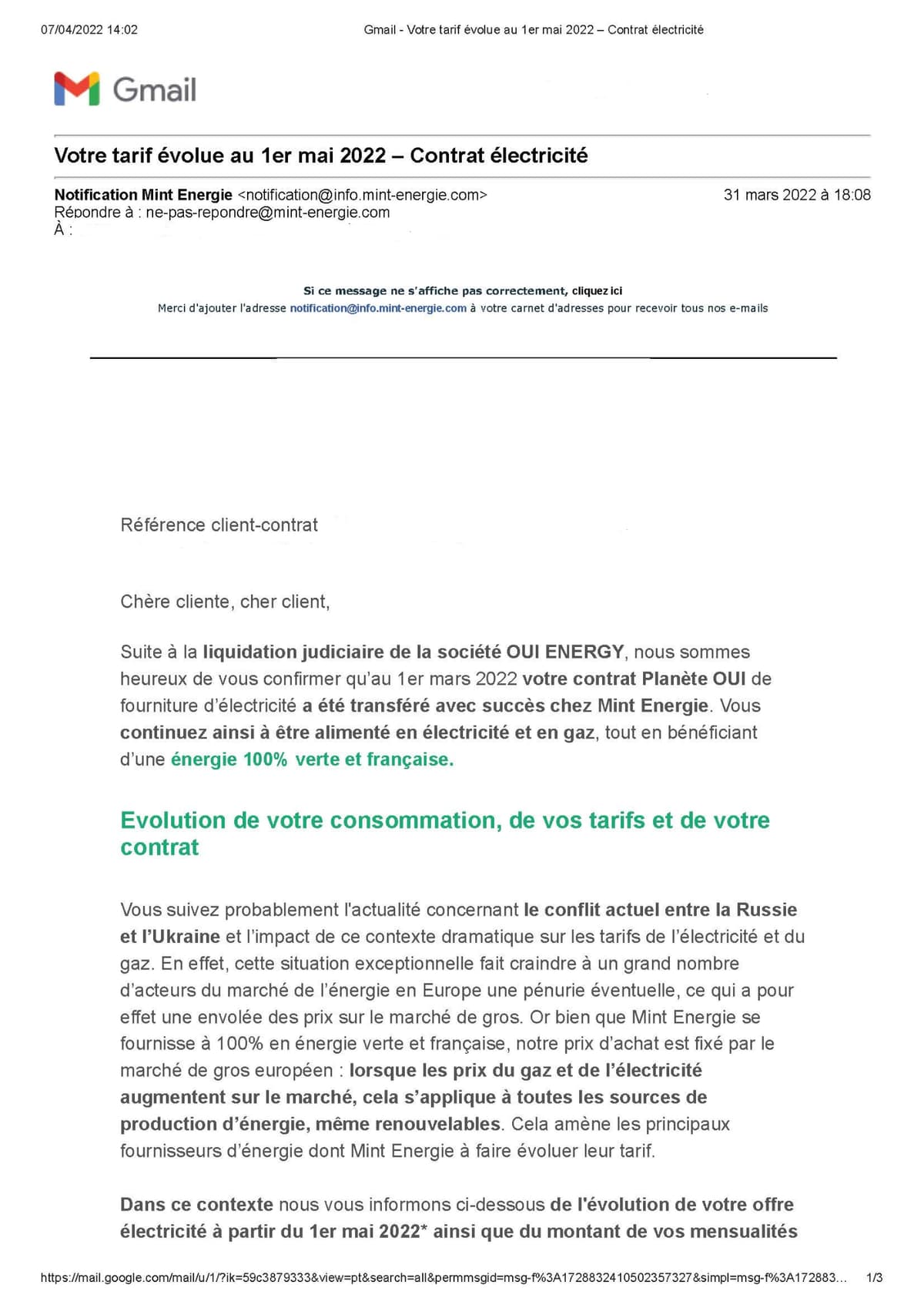 Although it may seem debatable, this process of de-indexing contracts from regulated tariffs is not illegal as long as customers have been informed of this change at least one month before its application. Which seems to be the case for Mint Energies. Still, the Montpellier-based supplier has drawn the ire of its customers, whose testimonials have multiplied on social media.
Asked by all sides, Mint Energies came to recognize that certain increases were undoubtedly linked to "mistakes." When taking on the Planète OUI contracts, "part of the migration was painful. Mistakes were made. For some, the baseline was not correct. People were contacted for refunds or compensation", the supplier tells The Midi Dispatch.
Customers who signed up with Mint even before the Planète OUI went bankrupt are also concerned: "For some contracts, a consumption recalculation was carried out and errors may have occurred. explained here. We are studying all this, but all those affected will be compensated", says the operator.
If Romain finds your monthly payments of 120 euros with the Mint during your next closing invoice, your claim to Planète OUI may take longer to settle. And with good reason, before initiating a collective action in court with consumer associations, "we must wait for the return of the legal representative".
In the meantime, Romain has created a group that gathers around 150 former customers of Planète OUI at this stage. In the absence of being able to sue the bankrupt company, "we would like to turn against BCM Energy", its Lyon holding company, he says. And to add: "We are not only fighting the increase in tariffs, but also to save people in difficult financial situations, in fuel poverty."
No tariff shield for Electricité de Strasbourg subscribers
In Strasbourg, Electricité de Strasbourg (ÉS) customers who signed a gas supply contract are also outraged. According to France Bleu, the supplier says it cannot apply the government's tariff shield. As a result, its contracts are indexed to wholesale market prices and subscribers can hardly turn to another operator, with ES having a monopoly in the Alsatian capital.
As a result, the bills are rising sharply. A situation that led the Mayor of Strasbourg, Jeanne Barseghian, and the President of the Eurometropolis, Pia Imbs, to alert the Prime Minister Jean Castex, as well as the director of ÉS Energies, to ask him to "translate the measures announced by Matignon to all its gas supply offers".
"We ask for your commitment to honor the promise made to all homes with natural gas heating, offering a solution equivalent to the tariff shield, allowing consumers who have joined an offer without TRVg, to benefit from the same protection. most French. It is a matter of equity and social justice," the two elected officials write in a letter addressed to the prime minister and relayed by France Bleu.
"Particularly Harmful Processes"
Consumer protection association, CLCV (Consumption, Housing and Living Environment) decided to file a complaint in November against four suppliers, including Mint, to denounce "procedures particularly harmful to their customers". In general, CLCV points to the practices of a dozen "small operators" who were "very discounted" before the crisis and weigh around "10% of the market", explains François Carlier, general manager of CLCV.
Since the increase in prices, these have changed to classic increases of "about 25-30%" or "indexation to wholesale market prices", he explains. Most of the time, notifying customers by email, at least one month in advance, as required by law. A process not very to François Carlier's taste. First, because email can go unnoticed in the flood of messages sent to inboxes. Then because "the email title is often not very explicit. For example, 'Your offer is changing' to announce a 25% increase. Morality: If you choose one of these operators, practical advice is to open your emails. mails", adds the general director of CLCV.
Above all, the association that has received more than 400 complaints from Mint customers wants to defend in court that the de-listing of a TRV offer is not a simple contract change and that an email cannot be enough to announce it: "We believe that when we move from an offer indexed to the TRV to an offer indexed to wholesale market prices, it is not a change of contract, but a new contract", according to François Carlier.
In this period of rising energy prices, he advises customers to return to the regulated electricity tariff in order to have "contractual security", or even resort to "large operators". For gas, customers can no longer return to the regulated tariff, which will disappear in July 2023. The offers of large operators, however, continue to be the safest as well, according to François Carlier.