Organized by Retrofuture Electric Vehicle, the 2022 REV Retrofit Tour kicked off last week on the French Riviera. This Tour de France of French regions aims to promote carbon-free mobility by introducing people to retrofitting. A technology that consists of replacing a combustion engine with an electric motor to eliminate polluting emissions. The retrofit can cover all types of vehicles, from the classic car to the bus, passing through the utility. The Retrofit Tour aims to demonstrate this by showcasing the first functional vehicles. It is also a way of making the public aware of the different possibilities of transforming a thermal vehicle into an electric vehicle. A technical solution that is both eco-friendly and cost-effective.
40 cities and 13 regions crossed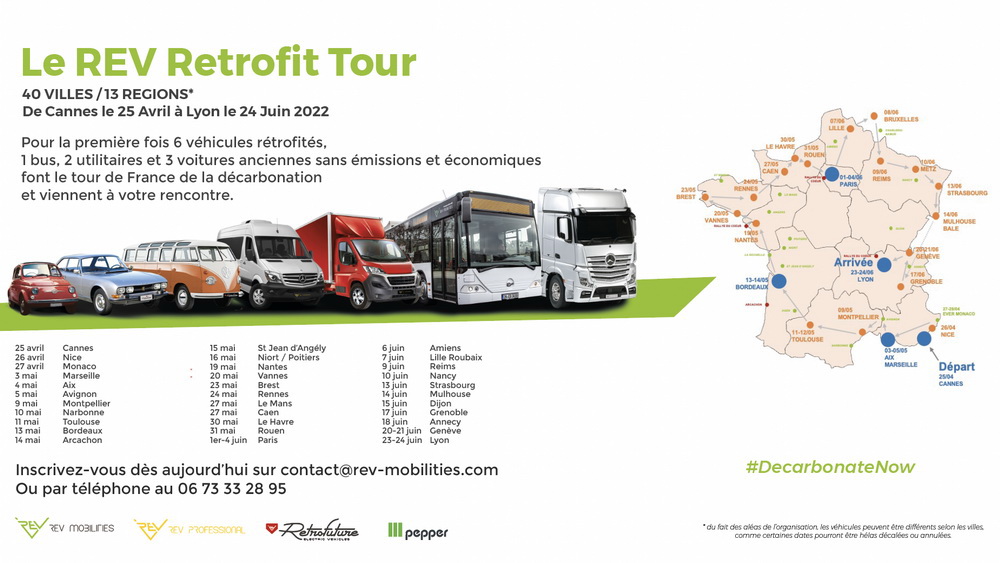 The REV Retrofit Tour 2022 kicked off on April 25 in Cannes. The next day he made a first stop in Nice, before settling for 3 days at EVER Monaco. He will resume his journey on 3 May in Marseille, then in Aix and Avignon on 4 and 5 May. Then head to Occitania with scheduled stops in Montpellier, Narbonne and Toulouse. Your journey will first extend to New Aquitaine in Bordeaux, before traveling across France. A journey that will notably take you to Paris from 1er until June 4th, to end on June 24th in Lyon. In the end, the Retrofit Tour will have covered 13 regions and crossed over 40 cities and towns. A detour is planned in Geneva, just before the final leg in Lyon.
6 vehicles on display
During this 2022 tour, Retrofuture Electric Vehicle exhibits representative vehicles of its three "business units". The first concerns more particularly old cars. Even though the REV transforms small cars like the Fiat 500 or the Austin Mini, it's not its priority. It is mainly intended for vehicles with high emotional value. Cars like the 1976 Triumph Spitfire or the 1973 Porsche 914 are on display. Same thing for the Peugeot 504 Coupé and the Volkswagen Combi also featured. The second division of REV is aimed at professionals with retrofit of utility vehicles, a very dynamic market. Finally, the third refers to buses and heavy goods vehicles to which retrofitting gives a second life. A second life of fifteen years, for half the price of a new vehicle.
Featured on EVER Monaco buses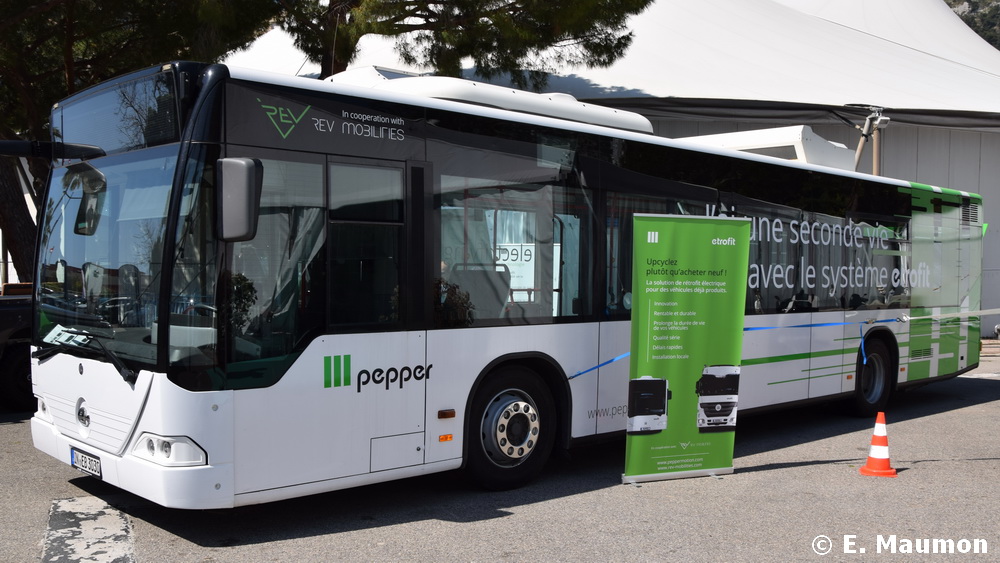 At EVER Monaco, REV wanted to highlight this pole showing only their adapted bus. A first generation Mercedes Citaro bus, operated for 16 years on diesel. A bus transformed two years ago by REV and the German company Pepper Motion. The engine, gearbox and fuel tank were removed. Same thing for the rear axle replaced by a motorized axle with two 125 kW electric motors. Two engines powered by a battery with a capacity of 240 kWh offering 250 km of autonomy. REV has already signed the first contracts in Germany, Italy and Eastern Europe. In France, its objective is to modernize 5,000 buses and trucks by 2030. A reasonable objective, considering the 90,000 buses and 600,000 trucks currently in circulation.
An order for 500 utility vehicles for artisans
Retrofuture Electric Vehicle also has strong ambitions in the field of utility vehicles. Retrofitting can really make sense for a professional, even with a vehicle with a low residual value. It allows him to maintain his vehicle which craftsmen often equip specifically for their activities. With the arrival of EPZs, many will not have access to city centers. Most cannot afford to buy a new vehicle and retrofitting is a great alternative. All the more so as the aid can reach 13,000 euros. The REV has already signed an agreement with the Mutuelle des artisans des professions de bouche. An agreement for a first order of 500 vehicles that each craftsman can use to purchase his own vehicle. Over the next few years, REV is targeting several thousand vehicles in this segment.