The latest study published by the consultancy Accenture demonstrates the growing importance of social commerce in the world. The report is based on a survey of 10,053 social media users in China, India, Brazil, the US and the UK between August and September 2021.
Social platforms, the Eldorado future of e-commerce
Social commerce, which consists of using social networks as a sales channel, is experiencing real success. In fact, transactions on social platforms are currently estimated at over 492 billion dollars worldwide. According to the study, 64% of social media users surveyed said they made a purchase through social commerce in 2021, which the consultancy said would represent 2 billion shoppers worldwide.
Accenture also forecasts exponential growth, with revenue expected to triple by 2025 to $1.2 trillion. At the same time, some countries have already taken the lead, such as China, where more than 80% of social media users have adopted social commerce.
And social platforms have understood their growing role in online commerce and the problems that arise from it. Thus, Twitter, Facebook, TikTok, Instagram or even Pinterest are increasingly offering resources dedicated to social commerce: online store, live shopping, recommended products, etc.
The social commerce trend can particularly impact new generations. In fact, by 2025, Millennials and Gen Z are expected to account for 62% of global e-commerce spending on social platforms.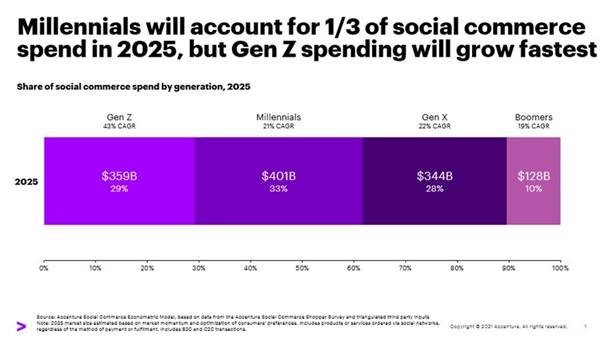 The biggest spend from social commerce should be on:
apparel, with more than 18% of spending worldwide,
electronics, with 13% of expenses,
interior decoration, with 7% of the expense.
Note that the "beauty and personal care" category will also hold an important place by 2025, with a total of 40% of online spending, even if total revenue is lower.
The steady increase in time spent on social media reflects the essential nature of these platforms in our daily lives. They are reshaping the way people buy and sell, giving platforms and brands new opportunities for user experiences and revenue streams, said Robin Murdoch, global head of software and platforms at Accenture.
A real opportunity for small businesses
Social commerce has the advantage of dramatically lowering costs and barriers to entry in the e-commerce market. In fact, the mere presence of the company on the social network is enough to open a virtual store or launch a live shopping. So independent creators, VSEs and SMEs can more easily engage in social commerce. Additionally, the study revealed that 59% of respondents would be more likely to support small and medium-sized businesses through social commerce rather than traditional e-commerce sites. 63% of them also confirmed that they would be more likely to buy from this seller again. Social commerce therefore seems to guarantee a certain level of consumer loyalty.
Social commerce is a leveling force fueled by the creativity, ingenuity and power of people. It empowers small brands and individuals and forces large brands to reassess their relevance in a market of millions, said Oliver Wright, Accenture's global head of consumer goods and services.
Olivier Wright also explains that it is necessary to create a synergy between creators, retailers and brands, to take products and services to where consumers are, through a "dynamic ecosystem of platforms, markets, social media and influencers".
Social commerce still raises doubts
Like traditional e-commerce in its infancy, social commerce still generates some apprehension among users of social platforms. In fact, 50% of respondents indicated they feared a lack of buyer protection, as well as loopholes in refund policies for purchased goods. Accenture's global head of consumer goods and services explained: "Trust is an issue that will take time to overcome, but sellers who focus on these areas will be in a better position to increase their market share. »
Those who haven't used social commerce yet say one of the reasons they're held back is a lack of trust in the authenticity of social sellers, while active users point to poor return, refund and exchange policies, he confirmed.